Margo Zdravkovic shares her adventures from Conservian's 2016 Bahamas Shorebird Conservation Expedition
Fair Winds and Full Sails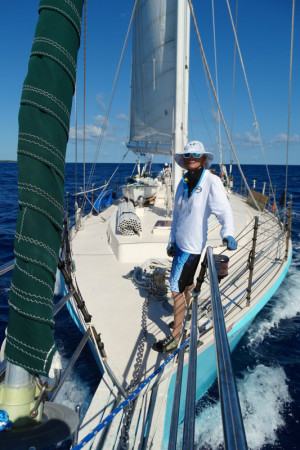 On the evening of April 27th, the Dreamcatcher's captain, John Duke, and I sat at the 75-foot schooner's large, wooden, galley table. With the sun setting over our research vessel, we studied charts and made final adjustments to plans that had been years in the making. We sailed out of Key West on the 26th, following the Florida Keys north, our schooner efficiently loaded with food, water, gear, and materials for the expedition. At sunrise we would set out and cross to Bimini, entering the infamous Bermuda Triangle. By the 29th we would clear Bahamian Customs in Freeport.
The five week long, 900-mile round-trip expedition would take us to the far reaches of the Bahama's northern islands, including Grand Bahama Island, Great Abaco, the Atlantic Abaco Cays, and the Berry Islands. Anchored out, the nighttime sky was clear and endlessly full of constellations not easily seen from land. For me, sleep off the Florida coast tonight would be difficult, but essential. The dream was actually happening. At sunrise, with the invaluable partnerships and cooperation of so many, Conservian's 2016 Bahamas Shorebird Conservation Expedition would, at last, become reality.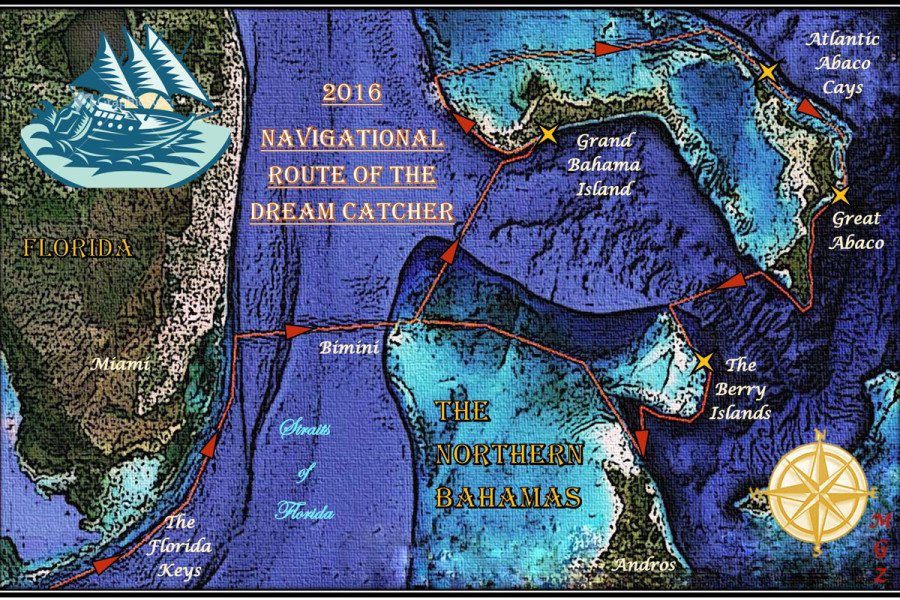 Bahamas Conservation Vision
Conservian's mission is to conserve coastal birds and their habitats throughout the western hemisphere. The Bahamas archipelago is comprised of more than 700 islands and cays, and thousands of miles of sandy shorelines, sand flats, mud flats, and mangroves, possessing prime habitat for migratory and breeding shorebirds, much of it yet unexplored. Even now in 2016, as human-created pressures increase globally, very little information exists on many species of shorebirds in the Bahamas, particularly solitary beach-nesting birds like the Wilson's Plover.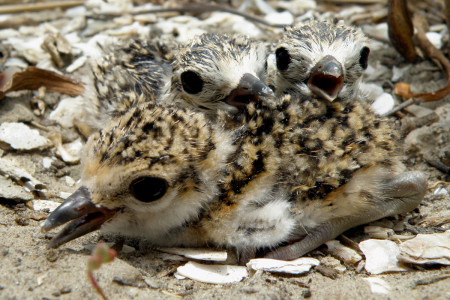 Why should anyone be concerned about such species? Well, the Wilson's Plover can be thought of as a "canary in a coal mine" or species that indicates the diversity level of a specific coastal habitat. To thrive, the Wilson's Plover, much like the endangered Piping Plover, needs healthy coastal habitats that are protected from human-caused disturbance. Plovers are fairly resilient and do well if provided with a safe stretch of coastal habitat to hatch nests and raise young. Protection for plover species can also act as an "umbrella" to benefit other coastally-dependent species.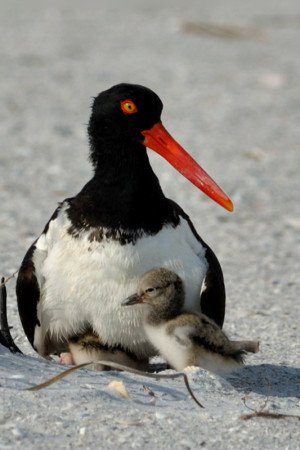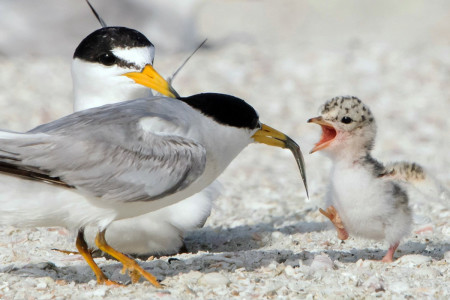 The seedling concept for Conservian's shorebird habitat conservation work in the Bahamas had taken root in 2011 during face-to-face discussions with Bahamas National Trust and other partners at the BirdsCaribbean International Conference on Grand Bahama Island. Later that year the Dream Catcher partnership began with Captain Duke's idea of a live-aboard expedition. In 2014 LightHawk funded Conservian's Bahamas aerial surveys that provided essential habitat data necessary to begin on-the-ground work. Discussions and planning continued through 2015 at the BirdsCaribbean Conference in Jamaica, where Conservian was invited to present a vision for new shorebird conservation work in the Bahamas. Resulting partnerships led to a cooperative Neotropical Migratory Bird Conservation Act grant award which will help fund the project through 2017. The International Conservation Fund of Canada is also a key supporting partner of Conservian's Bahamas conservation work.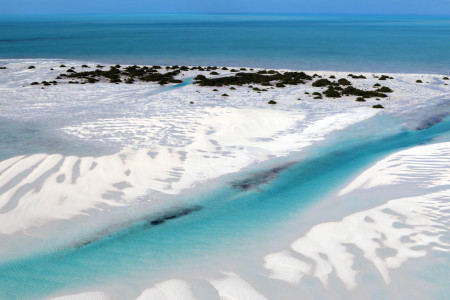 With the start of our expedition Conservian and partners would begin the first program in the Bahamas to implement on-the-ground protective measures to limit human-caused disturbance to beach-nesting birds, and initiate control of invasive Casuarina pine at key shorebird and seabird sites. We would accomplish these goals by working together in the field with our local partners and community members to conserve the Bahamas coastal treasures.
Our Research Vessel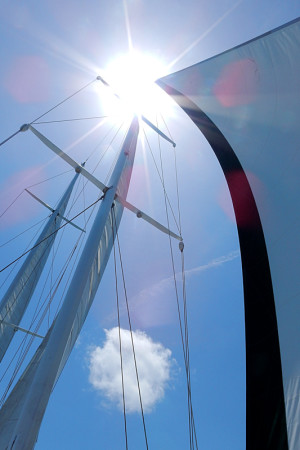 Designed in 1996 by Captain Duke, the Dreamcatcher schooner, our home and floating field station, proved, as planned, the most efficient way to transport our crew, field equipment, and materials throughout the northern Bahamas archipelago. Solidly built of steel, she made a perfect expedition vessel. Her 20-foot beam provided great stability in open waters, yet her shallow, 5-foot draft allowed us close approach to our targeted landing areas. For ferrying field crew and equipment to shore we towed a traditional, custom-crafted, 30-foot, wooden longboat, the "Aida", built by Captain Duke.
The expedition was planned for the month of May. After our three-day Atlantic crossing with only essential sailing crew, each week saw a new volunteer field team fly into Bahamian airports to join the project. The first team member, and one of our expedition photographers, arrived on Sunday May 1, followed by our first week's crew on Monday at Freeport International Airport. Conservian's team and ship's crew adapted quickly to shared onboard duties of cooking, cleaning, and sailing.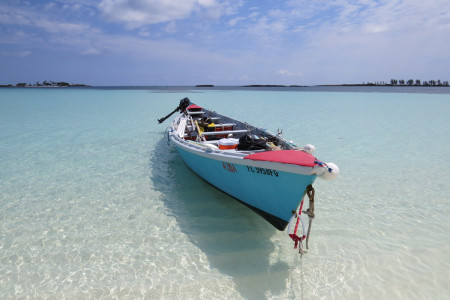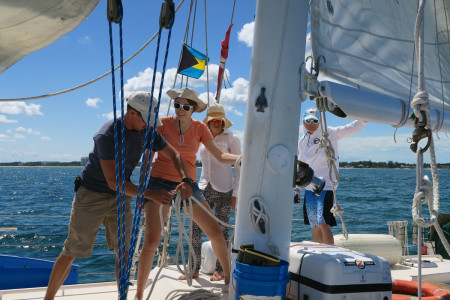 Each morning, we'd awake early to the welcome aroma of the Captain's freshly brewed coffee along with views of golden sunrises, open horizons, and almost impossibly vibrant turquoise water surrounds. Each night and each following morning, Captain Duke and I, along with first mate Andrew, would review planned navigation routes and logistics for the schooner and longboat, as well as deployment and retrieval plans for field crew and equipment.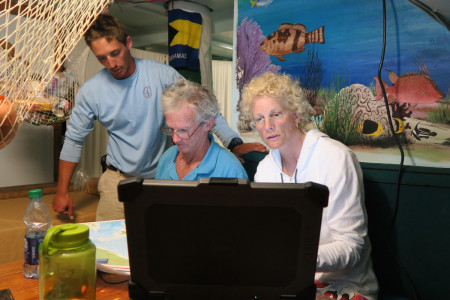 Key elements of our mission on every island we visited centered on conducting surveys for beach-nesting bird target species and habitat assessments for human-caused disturbance. In planned areas, we posted signs to alert beach-goers to the presence of beach-nesting birds to reduce disturbance to birds, nests, and chicks. We made new friends wherever we went as the Bahamian locals were very interested in our expedition, desired to help, expressed appreciation, and discussed the future.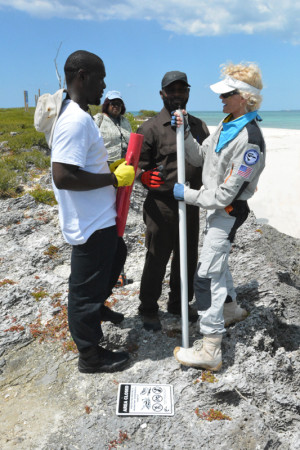 Challenges in the Field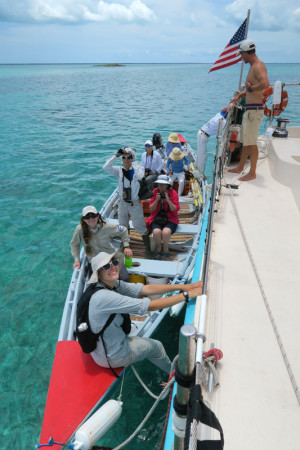 During survey work, we typically divided into smaller field teams of two or three, to cover the maximum area possible. Reaching shorebird sites, first by water and then by land, often proved to be our toughest daily task. Challenges began with finding suitably calm waters for team drop offs.
To reach potential habitat on islands with Atlantic beachfront, we often hiked on overgrown trails, through vegetated terrain, and across rocky shorelines. We made use of a variety of land-based transportation modes, from rental van and taxis to hitch-hiking on local golf-carts.
We walked many miles enduring May's tropical heat, humidity, and biting insects while searching for beach-nesting birds or posting shorebird sites. Rewards, were abundant, however, with exciting new data collected, new shorebird sites posted, frequent nest and chick sightings, and unforgettable vistas of Caribbean sands and seas, as well as an occasional quick dip in the blue to cool off. Often when the Dreamcatcher was anchored off shore, our adventurous and productive days ended with a boat-side swim or snorkel in the clear, near-shore waters followed by a hearty meal from the galley, or on-deck barbecue, jointly prepared by the group.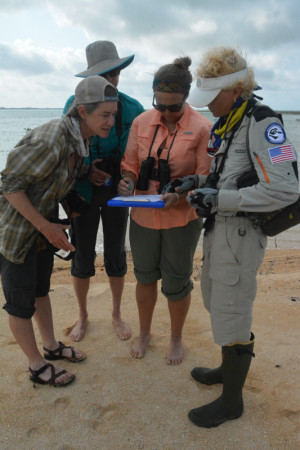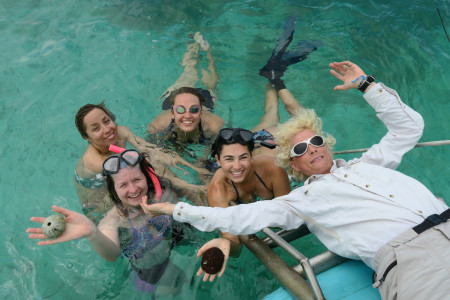 Field Successes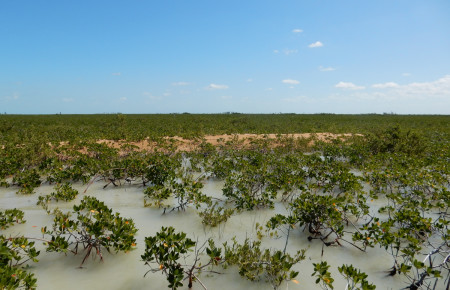 We conducted ground surveys for beach-nesting birds on 29 islands and cays, collecting new data on habitats, and breeding abundance and distribution. Local volunteer stewards participated in ground surveys and assisted with posting and signing of imperiled shorebird areas. Noted conservationist Erika Gates and her dedicated volunteers joined us aboard the Dreamcatcher for a sign posting mini-expedition to protect Bridled Terns at Peterson Cay National Park, where Conservian also conducted Casuarina eradication. On Grand Bahama Island and Great Abaco, by invitation, we gave educational presentations, speaking about Conservian's shorebird work and the expedition.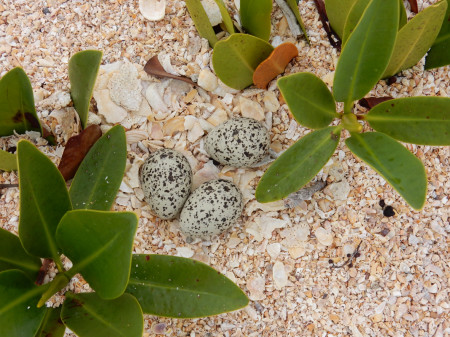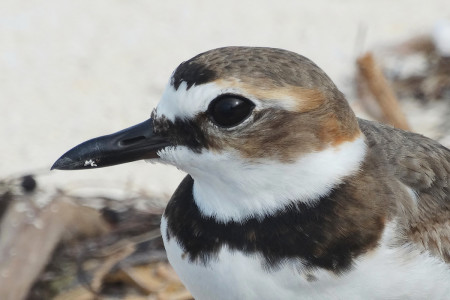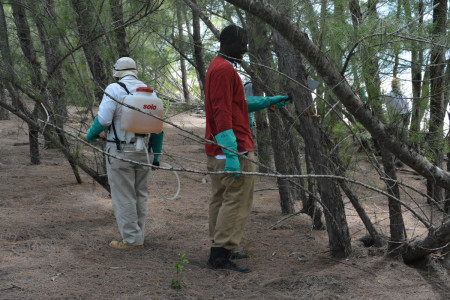 With assistance from Ellsworth Weir, manager of Lucaya National Park, we conducted a pilot project to control the invasive species Casuarina pine, which has spread throughout the Bahamas eroding beaches and destroying shorebird habitat. Conservian provided in-the-field Casuarina control training for staff from the Bahamas National Trust and Bahamas Public Parks and Beaches Authority. Our local Casuarina control team began eradication at Lucaya National Park's Gold Rock Beach with herbicide donated to the project by Dow AgroScience.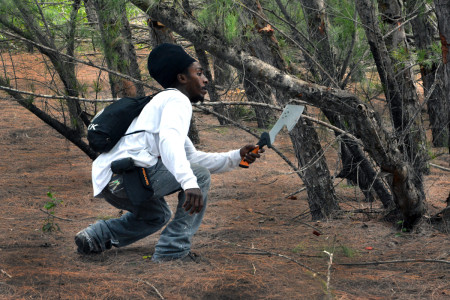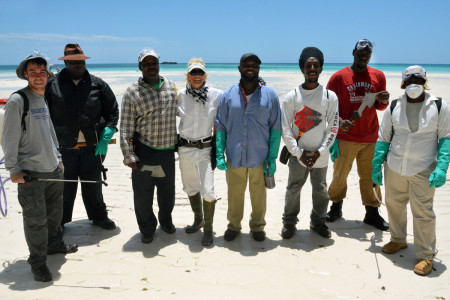 Conservian's Bahamas cooperative shorebird conservation work is a new and innovative program with long-term objectives for conserving and protecting the natural coastal resources of the Bahamas through directed assistance and local capacity building. With essential support from our partners BirdsCaribbean, Bahamas National Trust, local volunteer coordinators Erika Gates, Honorable Pericles Maillis, Dr. Elwood Bracey, Shamie Rolle, and many others, we were able to accomplish major project objectives during our first year of the project. Our present and future successes are attributable in great measure to our increasing family of supporting partners, whom we look forward to working with again soon.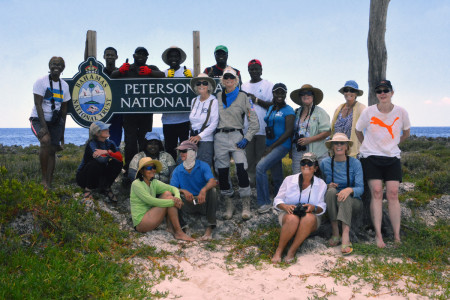 Bahamas 2017!
In May 2017, Conservian/Coastal Bird Conservation will embark on our second Bahamas conservation expedition in the northern Bahamas. Keep a weather eye on our Facebook page at https://www.facebook.com/CoastalBirdConservation for our other project updates and message us or email margoZ@coastalbird.org for information on joining Conservian's conservation team on our next adventure.
Our Supporting Partner Organizations and Individuals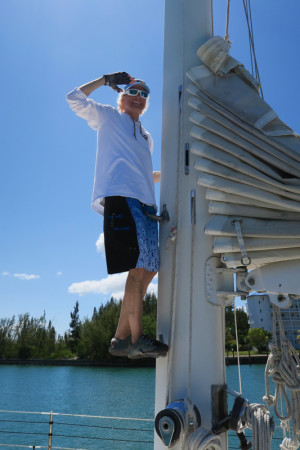 BirdsCaribbean, Bahamas National Trust, International Conservation Fund of Canada, US Fish and Wildlife Service/Neotropical Migratory Bird Conservation Act Grant, LightHawk, Dream Catcher Coastal Sailing Adventures, Dow AgroSciences, Grand Bahama Nature Tours, Optics for the Tropics, Grand Bahama Port Authority, Bahamas Public Parks & Beaches Authority, Bahamas Environment, Science & Technology Commission, Rand Nature Center, Abaco Friends of the Environment, Treasure Cay Community Center, Royal Bahamas Police Force/Marine Support, University of Florida, University of Miami, Mobile Bay Audubon Society, Atlantic Design Homes.
Honorable Pericles Maillis, Dr. Lisa Sorenson, Eric Carey, Erika Gates, Captain John O. Duke, Dr. Elwood Bracey, Shamie Rolle, Ellsworth Weir, Linda Barry-Cooper, Keith Kemp, James Madison Roswell, Andrew McDowell, Thomas Wilmers, Lee Pagni, Daniel Leckie, William Gravitter, Robert Gravitter, Edward Guerry, David Cummins, David L'Hereux, and Thomas Wilmers. Conservian 2016 Supporting Volunteer Crew: Maureen Lilla, Scott Hecker, Alexandra Newton, Tyler Kovacs, Emma Rhodes, Shona Lawson, Dawn Rasmussen, Carolyn Wardle, Janet Vertin, Robyn Darley, Robin Bjork, Ben Bowman, Pete Monte, Corina McBride, Coralina Meyer, Mihala Reedy, Charla Lower, Susan Silvia, Louis Wray.