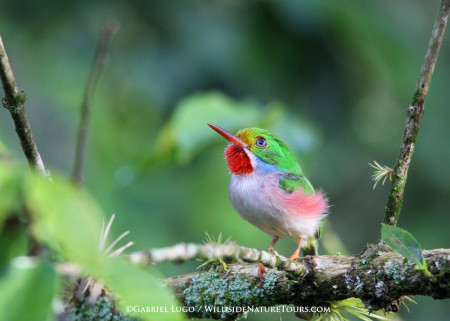 BirdsCaribbean's second biennial photography competition took place at our 21st International Conference in Cuba, July 2018. The three judges thoroughly enjoyed looking through 72 photos submitted on BirdsCaribbean's Flickr (look for tag "BCPhotoContest2017") by many fine photographers.
This year's contest featured three distinct categories as well as an overall Grand Prize Winner. The Endemics category showcased the bird species found only on Cuba. Fun with Birds and People highlighted both human-bird interaction and the International Conference itself. Birds and Nature explored birds as well as their habitats and the other animals and plants that make up island ecosystems.
The judges had a challenging time deciding on the winners in each category—they considered composition, focus, colour and overall interest of each photo. After some debate, the judges were unanimous in their decisions for the following prize winners.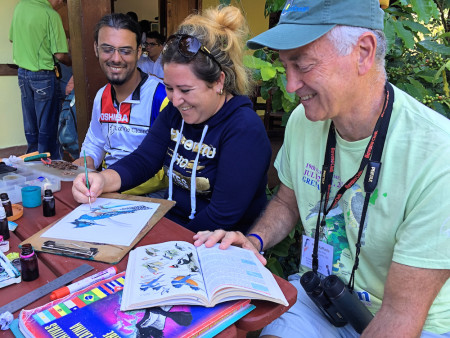 Grand Prize Winner
Cuban Tody by Gabriel Lugo
Endemics
First Prize – Bare-legged Owl – Whooooose There? by David Southall
Second Prize – Cuban Tody Perched by Aslam Ibrahim Castellón Maure
Third Prize – Cuban Trogon – Jewel Amongst the Foliage by David Southall
Honorable Mention – Cuban Tody – Mirror Mirror on the Wall by David Southall
Fun with Birds and People
First Prize – Captured! by John Webster, with a fun backstory: A local Cuban woman (not attending our conference) was painting a Belted Kingfisher using an illustration from Herb Raffaele's Birds of the West Indies Field Guide as a reference. Herb, the good birder he is, spotted her working on the painting that was to be sold to the next tourist. Naturally, Herb was intrigued. Not knowing her understanding of copyright, he introduced himself as the author of the book. She was shocked and a little sheepish to be caught copying the artwork. This amazing moment was well captured by John Webster. In the end, to properly honor the author, she presented him with the freshly rendered kingfisher. ¿¡Que suerte?!
Second Prize – Zapata Wren Here we Come by David Southall
Third Prize – That's the Bird! by Aly (DeGraff) Ollivierre
Honorable Mention – Linda and Bee Hummingbird by Jessica Rozek
Birds and Nature
First Prize – Perfect Perch by David Southall
Second Prize – American Flamingos by John Webster
Third Prize – West Indian Woodpecker by Gabriel Lugo
Honorable Mention – Sunset over Viñales Valley by John Webster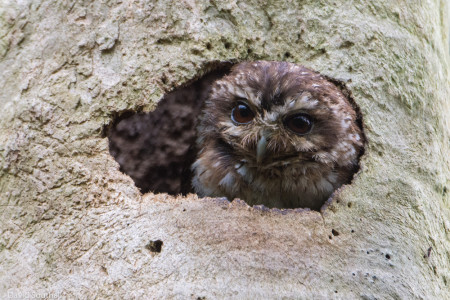 Congratulations to all the winners! The grand prize winner will receive a pair of Atlas Optics Sky King Binoculars (10×42) and JBL Flip 3 Splashproof Portable Speaker. First prize winners winners will receive a Woofit Wireless Bluetooth Speaker, second place will get a signed copy of Wildlife of the Caribbean and third place will receive a signed copy of Birds, Beasts & Bureaucrats. Thanks to our sponsors Eagle Optics and Princeton University Press for donating these fabulous prizes.
Thanks also to our three wonderful judges, Andrew Dobson, Skip Glenn, and Ivan Mota, for their time, expertise, and careful consideration of all the photos.
Finally, thanks to all the photographers who participated in the contest! Many excellent shots were submitted, making the decision on the winning photos a real challenge for the judges. To see the entries in each category, follow these links: Endemics, Fun with Birds and People, and Birds and Nature.