Martha (Mandy) Walsh McGehee recalls her experiences with several devastating hurricanes in the Caribbean during the 1980s and 1990s, and the heartening interactions between people and birds in their aftermath.
I have had hurricane nightmares. Once, they were about boy-named hurricanes. Now they are about the girls. My first "bad dream" was in St. Croix in 1989, when Hurricane Hugo came to visit. My two-story home was demolished. The roof of the top floor and the sea walls on both floors were gone. I was in a downstairs closet for three days – blocked in by debris – before anyone could get to my house in the East End. I was lucky to be on the first flight to the United States. I never returned to St. Croix. Instead, I relocated to the island of Saba in 1990.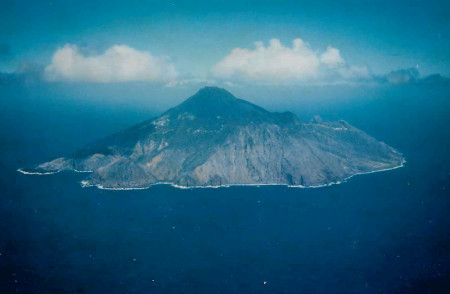 On Saba, I had become known as the "Bird Lady" due to my work with the Rare Center for Tropical Bird Conservation (now called RARE), and my experience rehabilitating birds. My doorbell rang often and I would answer it to find an islander with a cardboard box, which contained an injured or dehydrated bird. I lost some, but was able to rehabilitate many.
In 1992 I met a man from Miami who came to Saba without a dive buddy and we eventually married. His experiences in Florida prompted him to update my home for hurricanes. For example, he immediately made certain that the glass doors and windows had adequate permanent shutters. All went well until my second bad dream in 1998: Hurricanes George (followed a year later by Lenny). We retreated to the laundry room that was a level down from the house and protected from the sea by our cistern. When we emerged and went upstairs to the main house, we found the stone walls were intact but the house was full of water. George even took our fireplace chimney and part of the roof with him!
I walked outside to our courtyard and couldn't believe the number of Purple-throated Caribs and Bananaquits that were waiting on bare twigs near where our feeders had been. We had eight feeders in the fridge that I had removed the evening before George hit, and we took them out immediately.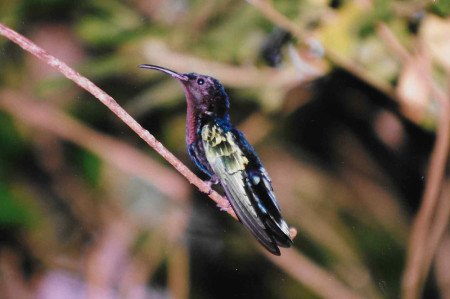 The first feeder went to a Purple-throated Carib we called Buddy. He dominated the pool area and successfully defended "his" feeder from all other hummingbirds and Bananaquits. His perch was less than a foot away. We always talked to him and it took him no time to recognize his name. If he wasn't on his perch above the feeder he would come in if we called him. When I removed his empty feeder he would perch outside my front door. When I came out with a full one he would fly to my shoulder and ride to the feeder. I think he chose the shoulder over the feeder to avoid being sloshed with sticky fluid. He was one smart bird!
With Buddy safe it was time to check on our Gray Kingbird named Jeremiah, who we rehabilitated after receiving him as a nestling. We had raised him in our family room, teaching him to catch moths and bugs outside when he was fully feathered and starting to fly. He came immediately when I called. Needless to say, it was such a relief that he had also made it through the Hurricane!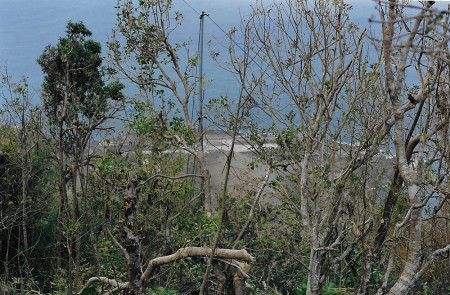 After tending to the birds, I looked around and saw that the elfin forest was completely gone, stripped bare of all leaves, fruits and flowers. I knew what we had to do. We had a satellite phone and called Miami. I managed to get a donation of 250 hummingbird feeders and we ordered four pallets of birdseed to be shipped to the island in the fastest way possible.
The word spread quickly through the island that I had ordered emergency rations for the birds and as a result, our house became a feed and feeder distribution center. Most of the islanders lost their roofs. I can remember blue tarps covering damaged houses everywhere. Yet, in the midst of utter devastation, I would see Sabans out every day filling feeders for the birds.
From my experience, islanders really began to pay attention to their birds after the hurricane. Because the elfin cloud forest was gone, many birds that were primarily seen only there and passage migrants were forced to come halfway down the mountain to the villages in search of food. This excited people and I was constantly identifying birds for curious residents. A Baltimore Oriole was spotted and soon attracted the whole neighborhood!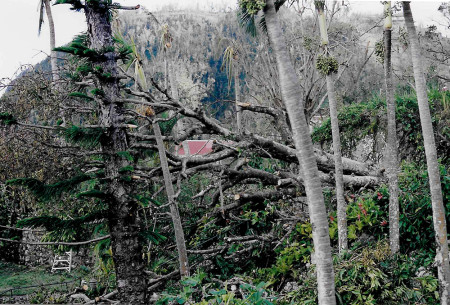 Saba has no standing water, so water birds were especially exciting. One of the most memorable bird identifications I made was of a Green Heron. I arrived at the home of an elderly gentleman who was standing in his yard waiting for me. He thought the bird was the prettiest bird he had ever seen. He wanted to know everything about it. I always had a bird guide in my car so was able to answer all of his questions. After spending over half an hour discussing the bird and looking at it from all the varying angles, I finally told the man I needed to go home. He gave me a big hug and thanked me with tears in his eyes. He said he hoped the bird could go back to its home, but hoped that if another hurricane came the bird would visit again.
I have had nightmares again, since Irma and Maria. Throughout my career, I traveled to many islands to supervise bird projects we were working on in the Lesser Antilles. My heart breaks for all the islands impacted by the recent hurricanes, and I know many of them- and their birds- well. I am hoping that, by telling my story, maybe those islands can plan ahead and have a repository of feeders and seed on hand at the beginning of hurricane season. They will likely be rewarded, as I was, with an island that truly loves and takes care of its birds.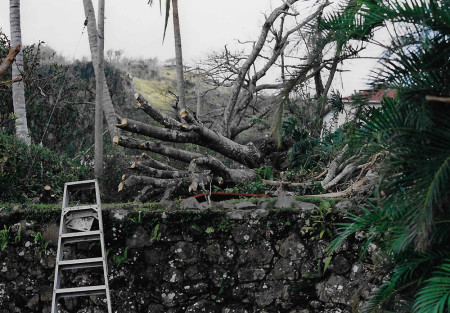 I would now like to add a postscript. Since writing the first draft of this article I have been in almost daily contact with my very dear friend on Saba who is the current bird rehab person specialist. When she wrote to tell me there was no more seed and few feeders on the island, I arranged for her to get in touch with Lisa Sorenson. Lisa has arranged for a seed and feeder shipment to Saba. I will always be grateful to BirdsCaribbean, and I am very proud to be a member.
By Martha (Mandy) Walsh McGehee, biologist and member of BirdsCaribbean since its beginning in 1988.
Editor's note: We thank Mandy for writing about these memories. Her inspiring story, originally told to Lisa Sorenson by phone after Hurricanes Irma and Maria hit in September 2017, motivated us to make sure that all the islands (15) impacted by these hurricanes received shipments of feeders and seed. We're happy to report we were able to do this, thanks to many generous donors to our Hurricane Relief Fund. We continue to help birds and our partners recover with many restoration activities planned for 2018. The needs are enormous, however, so continued donations to the fund are welcome.