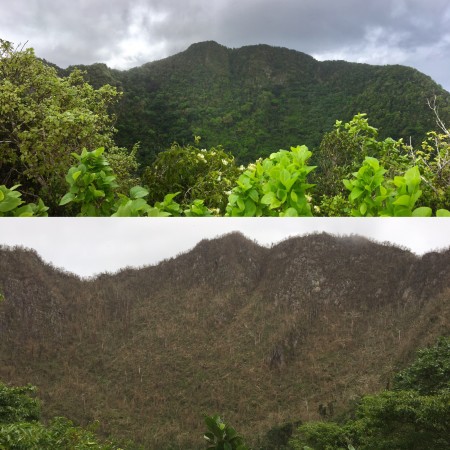 On September 6, 2017, record-breaking Category 5 Hurricane Irma pummeled the northern Lesser Antilles, leaving a trail of destruction in her wake. While St. Eustatius (affectionately known as Statia) was spared extensive infrastructural damage and power was restored to most homes within a few days, forest cover in the Quill National Park did not fare quite so well. Immediately after the storm, defoliation of the vegetation was clearly visible across the dormant volcano, which rises to a maximum height of 600 meters and suffered the brunt of hurricane force winds of up to 150 mph.
When we felt it was safe to go out, our initial exploration of the Quill on September 9 revealed a shocking sight from the crater rim viewpoint at 400 meters. Areas that were once covered in lush evergreen vegetation were barely recognizable. Gone were the majestic Silk Cotton trees that once dominated the canopy; instead we were confronted with an almost bare crater wall covered in once-towering trees that looked like they had been snapped in two by an invisible giant.
Two weeks later, Hurricane Maria passed to the south of St. Eustatius and brought over 100mm of rain but less severe winds. Again, residents of St. Eustatius breathed a sigh of relief, but our thoughts were with those who suffered greatly in Puerto Rico, Saba, St. Maarten, Anguilla, the U.S. and British Virgin Islands, Dominica and other affected islands. Thankfully Maria's rainfall helped stimulate vegetation regrowth in the Quill. However much of the original canopy was severely damaged, and all fruits, seeds and flowers that normally provided food for wildlife were lost.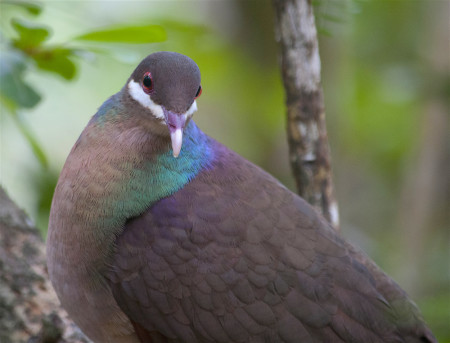 Our immediate concern fell to the Bridled Quail-dove (Geotrygon mystacea), an uncommon to rare resident in a few Lesser Antilles islands, the Virgin Islands and Puerto Rico. This West Indian endemic forages for fruits and seeds on the forest floor. Little is known about the population status of this species throughout its range, but it is thought to be declining in the Eastern Caribbean due to loss of habitat and other threats. The Quill is the only habitat on Statia that supports the quail-dove.
In May 2017 we had conducted a population assessment of the dove in connection with a rodent control project that is being facilitated through the Caribbean Netherlands Science Institute (CNSI). Our initial results were encouraging, with an estimated 1,030 quail-doves (standard error [SE] = 275, 95% confidence interval [CI] = 561-1,621) across its local habitat of 440 hectares. This is possibly the highest known density in the region. With baseline data fortuitously in hand, we were very interested to assess the quail-dove's population size post-hurricane. Thanks to generous persons that donated to BirdsCaribbean's fundraising appeal, we were able to repeat the survey in early to mid-November, about two months after Hurricane Irma hit.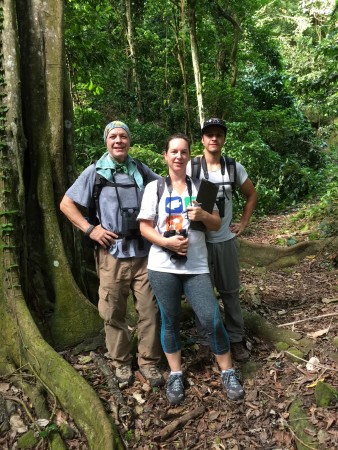 Our team consisted of Dr. Frank Rivera-Milan (population ecologist with the US Fish & Wildlife Service), myself (biologist with CNSI), and Kevin Verdel (student from the University of Utrecht). We conducted 56 transect surveys of 100 meters, and repeated them 2-4 times. This was fewer surveys than the 70 100-meter transects we had conducted in May because some trails were inaccessible due to downed trees. We also used a playback of the Key West Quail-Dove's call, given that our surveys took place outside the breeding season, in an attempt to elicit a response from any Bridled Quail-Doves in the survey area. Unfortunately the quail-doves did not respond to the playback, which meant that all the detections during November's surveys were by sight only. The perpendicular distance of the quail-dove from the transect was measured, and the data collected were brought into program Distance to give a total population size.
Our data analysis revealed an estimated population size of 803 Bridled Quail-Doves (SE = 208, 95% CI = 451-1,229) in November. This is a decrease of about 230 birds from the mean population size estimate of 1,030 birds counted in May. Although this is a decline in the population size of ~22% (SE = 8.2%), statistical tests indicate that this decrease is not statistically significant (Z score = 0.66, P value = 0.51). This is the good news.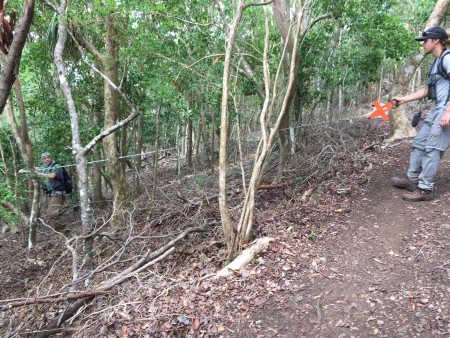 The bad news is that there is very little food available due to severe vegetation damage and we are now entering the dry season (Dec-Apr). This means that already scarce foraging resources will be reduced even further, which will likely result in decreased survival and minimum reproduction in 2018. The quail-doves we observed looked lethargic and did not flush far or fast during surveys. There is a real risk that the population will decline further due to lack of food. For this reason we plan to repeat the surveys again in May 2018, during peak breeding season.
We were glad to see that dry forest vegetation on the outer slopes of the Quill was recovering quickly. Inside the crater, however, approximately 50% of the evergreen seasonal forest that once covered this area has been heavily impacted by Hurricane Irma. It will take a few decades before the vegetation fully recovers. We expect this will have a negative effect not only on the quail-dove but also other bird species that rely on this unique habitat for their survival and reproduction. For example, instead of the usual flocks of Scaly-naped Pigeons (which are now foraging for food in coastal areas), we are now seeing smaller species like Bananaquit, Lesser Antillean Bullfinch, and the migratory Black-whiskered Vireo.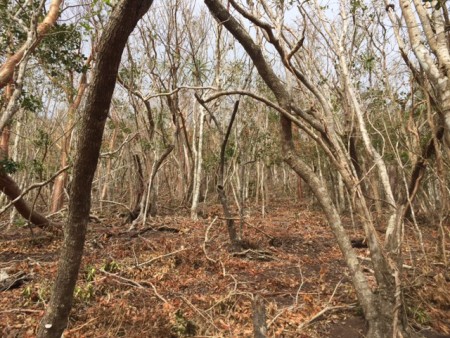 Following our initial surveys in May we were encouraged by the density of Bridled Quail-doves on Statia, the highest known density in the region at the time (although many islands that support the dove have not conducted population assessments). However, we now have some concerns for the species given its very restricted range (only found in the Quill National Park on Statia, at elevations of around 200 meters and above) and the fact that its natural habitat suffered extensive damage in some areas from Hurricane Irma. With food resources in scarce supply, competition between the doves and other species, such as the more aggressive and widespread Pearly-eyed Thrasher, could lead to a further decline in the already vulnerable population. We recommend removing predators and domestic animals above 250m to help the species recover and enhance its prospects for long-term survival in Statia.
Irma provided us with a unique opportunity to study the impacts of hurricanes on avian fauna on Statia (and elsewhere in the region). It is a bittersweet privilege to be able to contribute our results to the scientific community. Unfortunately, the frequency and intensity of Caribbean hurricanes are predicted to increase under human-induced global warming. We must do all we can to protect and enhance the integrity of our natural areas to help our birds and other wildlife survive the next hit, and hope to come out unscathed on the other side.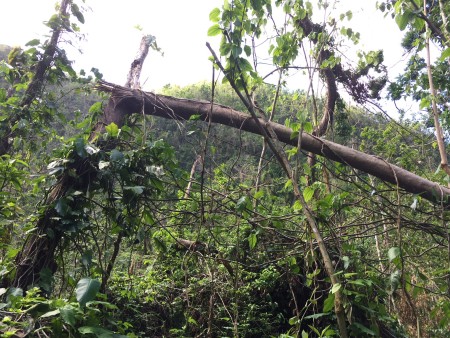 We are grateful to BirdsCaribbean for funding Dr. Rivera's travel expenses, to St. Eustatius National Parks for allowing us to conduct surveys in the Quill National Park, and to CNSI for facilitating this ongoing project. We look forward to reporting back to the Birdscaribbean community after we complete our second post-hurricane Bridled Quail-dove survey in May 2018.
By Hannah Madden. Hannah is a Terrestrial Ecologist in St. Eustatius currently leading two projects at the Caribbean Netherlands Science Institute. She also works as a bird and nature guide in her spare time, sharing the beauty and diversity of Statia with visitors. Hannah is an active member of BirdsCaribbean and has participated in several training workshops and conferences. She has published papers on different taxonomic groups, but especially enjoys working on birds. 
BirdsCaribbean is grateful to everyone that has generously donated to our ongoing Hurricane Relief Fund to help our Caribbean partners, birds and nature recover. This has allowed us to fund bird surveys like this one, replace equipment lost in the storms, send nectar feeders and bird seed to 13 islands, plant mangroves, and other recovery actions.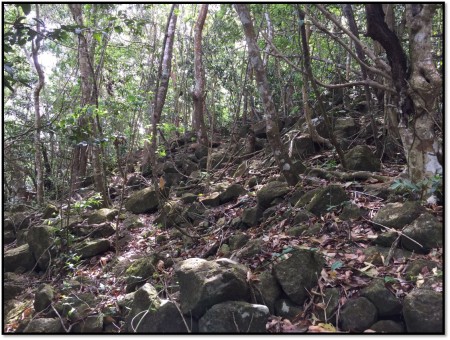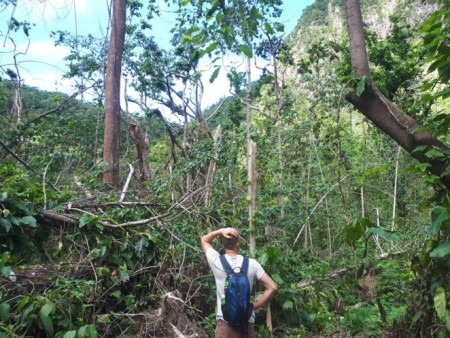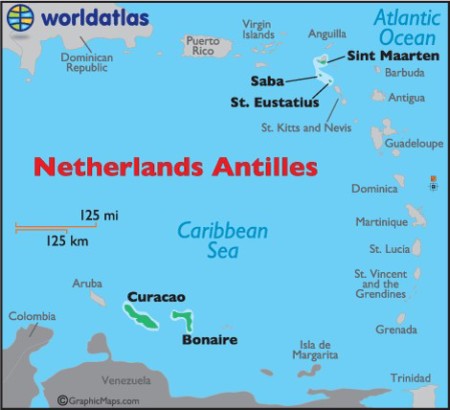 Read more about the Fall 2017 hurricane impacts on Caribbean birds:
Barbuda After Irma: A Devastated Landscape, A Proud People—and A Resilient Bird
#BarbudaStrong—Guadeloupe Bird Survey Team Plays Good Neighbors following Hurricane Irma
Bird Dispatches from the Hurricane Front Lines
Good news! Conservationists Excited to Find Surviving Barbuda Warblers on Devastated Island