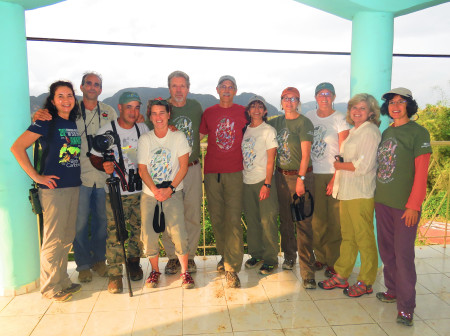 Cuba—definitely on the bucket list of most birders and indeed world travelers, but not the easiest country in the world to travel to for Americans. "I've waited 57 years to take this trip," declared David Hill. "The door slammed shut on me in 1959, but now, finally, I have the chance to visit." David, a retired airline captain and founder of RARE, was one of nine persons that traveled to Cuba for a birding expedition organized by BirdsCaribbean, January 22-30. The Caribbean Birding Trail tour, which included time in Havana, the Zapata Peninsula and Viñales Valley, was designed to not only see as many endemic birds (27!) as possible but also to experience Cuba's vibrant culture, beautiful landscapes, and warm and friendly people. The co-leaders of the trip were Lisa Sorenson and Jennifer Wheeler from BirdsCaribbean and Joni Ellis from Optics for the Tropics. We were well taken care of by our guide, Ernesto Reyes, Cuban bird guide extraordinaire and long-time BirdsCaribbean friend and colleague. Our group consisted of nine Americans, most traveling to Cuba for the first time with the exception of Lisa and Joni. All brought great enthusiasm for experiencing Cuba's birds and culture, as well as much personal experience in the field of wildlife conservation. Everyone had a lot of interesting information and stories to share that added to the enjoyment and learning of the trip. The excitement of introductions and anticipation for a fantastic week made waiting in multiple lines at Tampa International Airport for document review, baggage check, security and boarding go quickly!
¡Havana!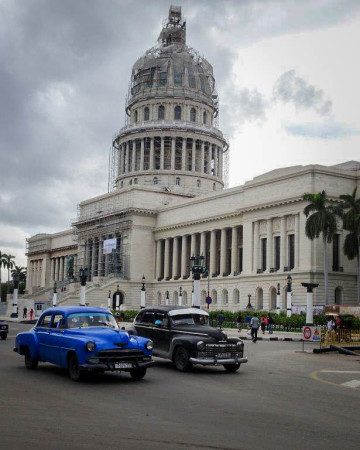 Havana airport was surprisingly small, and will certainly need to grow as tourism booms on the island. A large crowd of eager family members awaited arriving loved ones, but our guide, Ernesto, was able to pick out the first few of our group that ventured out – it is true that birders have a certain look about them! We met our driver, the "other Ernesto," nicknamed Soby, boarded our mini-bus and headed into the bustle of La Havana Vieja (Old Havana). It was everything the guidebooks described and more. Antique cars, bicycle-taxis, and the occasional horse cart traversed on cobblestone streets beneath stately buildings of colonial-era Andalusian-inspired and Baroque architecture, interrupted by the occasional Soviet-style high-rise. We were all completely captivated by the sites and sounds of this colorful and chaotic city, full of such rich history and seemingly frozen in time.
We spent the first evening and all the following day enjoying Havana. We were distributed for lodging in casas particulares (private bed-and-breakfasts) in the heart of the old city, and gathered to explore the streets and squares together. We saw waves crashing on the famous Malecón (shorefront promenade); Ernesto and his daughter Mariana guided us by the most historic buildings and plazas; we drank Mojitos on the roof of the hotel Ambos Mundos (where Hemingway wrote For Whom the Bell Tolls); and dined and drank at charming restaurants and bars. Of course, we took advantage of the myriad photo opportunities with antique Oldsmobiles, Fairlanes, and Chevrolets, which were everywhere, and several of us visited the fabulous Museo Nacional de Bellas Artes – Arte Cubano, which houses artwork purely by Cuban artists. A few in the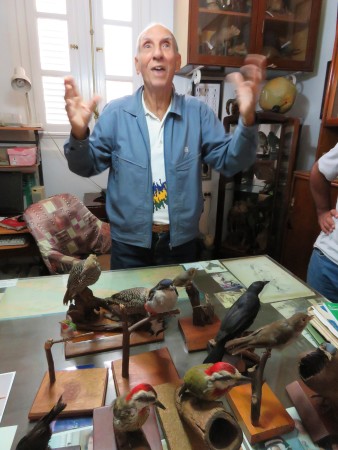 group also enjoyed wonderful Cuban music late into the night by the talented Cuban group Hearts of Fire at the Paris Club. There are not many birds to see in Havana, though it was noted that several of the stunning artworks in the Museo Nacional Palacio del Bellas Artes featured bird imagery of some kind!
At our Havana evening meals, we were joined by our Cuban colleagues and dear friends; biologist Lourdes Mugica (Universidad de la Habana) who dined with us at La California, and Maikel Canizares (Instituto de Ecología y Sistemática) at El Canoñazo. Both work in bird conservation and are long-time BirdsCaribbean members and partners on BirdsCaribbean programs such as the Caribbean Endemic Bird Festival, Caribbean Waterbird Census, BirdSleuth Caribbean, and White-crowned Pigeon research. They are also serving on the Local Organizing Committee for the next BirdsCaribbean International Conference in Cuba in July 2017. Another special visit in Havana was with emeritus ornithologist, the tireless and charming Orlando H. Garrido. Many of our party had his landmark book, Birds of Cuba (co-authored with Arturo Kirkconnell, 2000). Orlando, a living legend, regaled us with stories of his involvement in forming the bird collection for Cuba's Museo Nacional de Historia Natural decades ago, and in debating the finer points of taxonomic lineages in current literature. Also, he gave us a close-up look at his collection of mounted Cuban endemic birds.
The Zapata Peninsula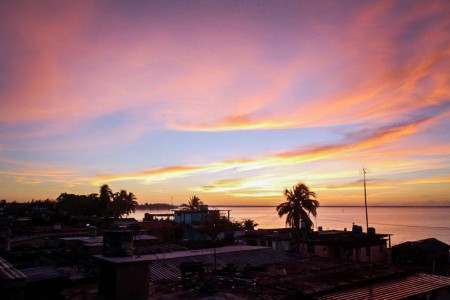 On Day 3, we were up early and off to the Península de Zapata on the southern side of the island, considered to be the most important region in Cuba for birding. A bus ride on wide, well-maintained, but largely empty highways took us to the Playa Larga area, found on the llanura (plain) of Zapata between the east and west ciénagas (swamps) of Zapata. Traversing wetland areas, we started seeing waterbirds right away, including Limpkin, egrets, herons, and ticking off endemics such as the Cuban Black Hawk and Red-shouldered Blackbird. Playa Larga is found directly on the northern reach of Bahía de Cochinos (Bay of Pigs). Obviously this is a site of historic significance and the area was marked by individual monuments to those 161 Cubans who lost their lives defending the island during the US-backed 1961 invasion.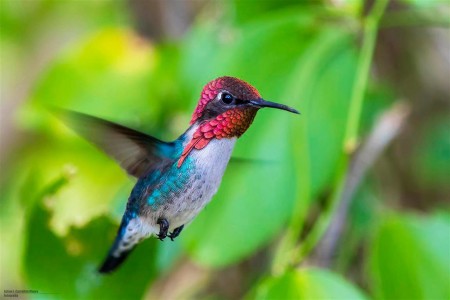 We stayed in casas in the small village of Caleton, a pretty little town with a beach, mangroves and just two little roads (one paved, one not) but experiencing a building boom associated with tourism. One of our first destinations was a nearby village neighborhood where endemic Bee Hummingbirds, the world's smallest bird species! — are known to hang out. Indeed we had a great view of a pair from a rustic backyard – a male demonstrating his courtship flight (flying way up in a straight line, then zipping out to the side) to a seemingly less-than-attentive female (probably distracted by the flowering trees, as were several Cuban Emerald hummingbirds and migrant warblers).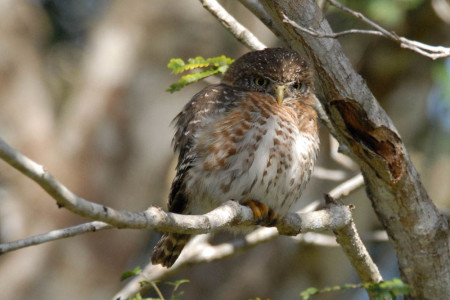 During our time on the Zapata Peninsula (Days 3, 4, 5), we visited a variety of diverse habitats. The Bermejas Reserve (Refugio de Fauna Bermeja), a forested area with nice trails, yielded such highlights as the beautiful Cuban Trogon (Cuba's national bird), Cuban Crow, Bare-legged Owl, Cuban Parakeet, Great Lizard Cuckoo, Tawny-shouldered Blackbird, Cuban Vireo, and the adorable Cuban Tody, a favorite of everyone. We had great looks at more Bee Hummingbirds and a variety of migrants warblers were also seen including Yellow-headed Warbler, Worm-eating Warbler, Swainson's Warbler, and Black-throated Green Warbler, among others. At Cueva de los Peces, we had fantastic views of 4 Blue-headed Quail Dove casually strutting around, including a male courting a female. La Cuchilla was the place to see Fernandina's Flicker, busily working on excavating a nesting hole in a dead palm tree. A Crested Caracara and Cuban Pygmy Owl were spotted nearby.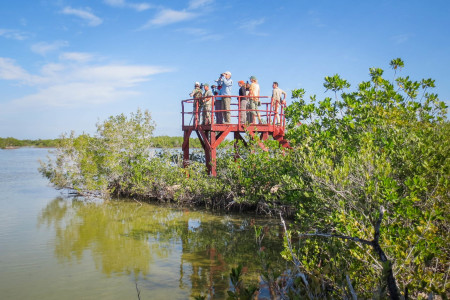 Las Salinas, an area of shallow tidal flats, wetlands, and mangrove-islets, showcased many hundreds of American Flamingos and a wide variety of herons, egrets, ibis, seabirds and shorebirds, including American White Pelicans, Brown Pelicans, Roseate Spoonbills, Neotropic Cormorants, Wood Stork, White Ibis, Black Skimmer, Clapper Rail, Royal Tern, Caspian Tern, Black-bellied Plover, and Short-billed Dowitcher.
At Boca de Guamá a wooded tourist spot around a lake we had excellent looks at the Cuban Oriole and West-Indian Woodpecker. Our target birds at La Turba, a grassy vegetated track between tree-lined canals, were the Zapata Sparrow and Zapata Wren. With a little help from playback, we were rewarded with four active sparrows at very close range! Unfortunately, the Zapata Wren was not so cooperative in the windy weather. Finally, one evening, we walked around the small eco-village of Los Hondones, a quiet in-holding in the National Park. Ernesto is building a house there and envisions a tranquil oasis where guests would be surrounded by a woodland of native trees and active birds. Before dark we had a long look at an industrious Cuban Green Woodpecker, Cuban Pewee, Cuban Parrot, and La Sagra's Flycatcher, and after dark, a Greater Antillean Nightjar (Cuban) attracted to the insects under a streetlamp.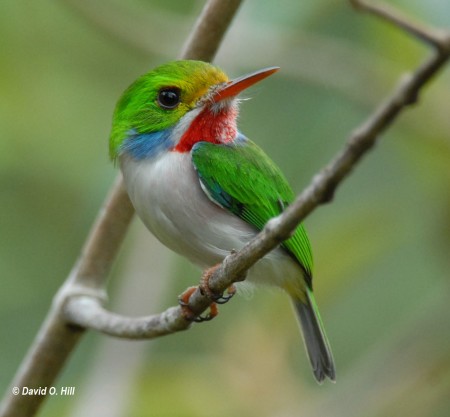 Back in Caleton, we enjoyed festive group meals with such treats as fresh coconut water from just-hacked-open coconuts and fresh fish pulled from nearby waters. We ate dinners at the casas, and were treated both nights by a very talented group of musicians, Son X Siempre, who provided excellent, authentic Cuban music, great for dancing. We were also hosted to rum-and-honey shots and a presentation by Rosendo Martinez, the founder of Cuba's Protected Areas Program (Centro Nacional de Areas Protegidas) and an advisor in Sustainable Tourism and Interpretation. Rosendo conducts workshops for casa owners and tour agencies, and is a great contact for BirdsCaribbean's Caribbean Birding Trail program. Later, after dark, we went to take a look at the town's Stygian Owl, perched and hunting for bats to provide its evening meal.
Viñales Valley, with stops in Las Terrazas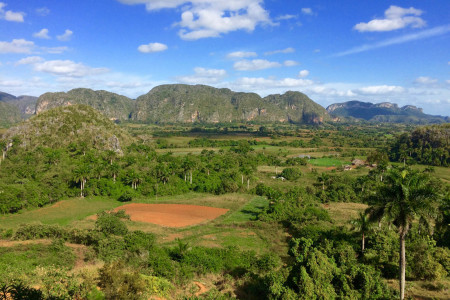 On Day 6, we made our way to the West, to the Pinar del Río province. On the way, we made several stops to look for birds, of course. At the Niña Bonita Reservoir just west of Havana, we dodged raindrops to conduct a Caribbean Waterbird Census count, and tallied hundreds of Lesser Scaup along with a scattering of Ring-necked Ducks, Northern Shovelers, Blue-winged Teal, Ruddy Ducks and Brown Pelicans. In the Sierra del Rosario hills, we stopped at the eco-resort of Las Terrazas for lunch and were treated to a demonstration of the local chanting campesino music, while fighting off very aggressive chickens and peacocks mooching our lunches.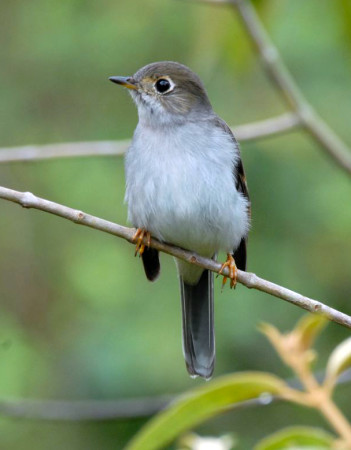 In January, the New York Times listed Viñales as a top destination to visit this year. We could see why. It is lush and beautiful valley punctuated with huge, flat-topped, limestone mountains called mogotes (which means "haystacks"). In between the mogotes are found rich, red-soiled fields renowned for their crops of tobacco. The developed and undeveloped areas are protected as the Parque Nacional de Viñales, and are rich in birdlife. Our first birding effort, however took place on the delightful terrace above the home of Nils Navarro, artist, naturalist, and author of the new book, Field Guide to the Endemic Birds of Cuba. In between sips of Cuba Libres (rum and Coke, with lime juice), and sighs of admiration at the pink skies of approaching sunset, we enjoyed watching hunting Merlins through the scope.
Day 7 was rainy, but we headed out to Maravillas de Viñales, a public use zone of the national park, where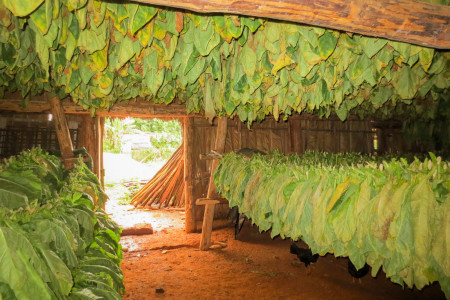 Ernesto and Nils sought to find the Cuban Solitaire for us. We heard it's melodious song and soon spotted it near the observation platform. We also enjoyed many other birds in the area including the Western Spindalis, Cuban Bullfinch, Cuban Pewee, Red-legged Thrush, Cuban Crow, Yellow-headed Warbler, Cuban Tody, Cuban Trogon, Cuban Blackbird, and Red-legged Honeycreeper before rain drove us back to the village for lunch. That afternoon, we had a lesson in tobacco cultivation and harvest (all by hand, or with the help of oxen) and cigar rolling in a local tobacco drying barn, and had a chance to puff on a fine cigar constructed skillfully and rapidly before our eyes. We also enjoyed coffee at a little, local finca run by Nils' in-laws, after touring their efforts at sustainable subsistence farming (raising vegetables, coffee, fruit, rabbits and other livestock).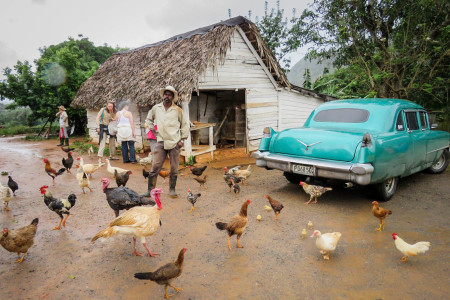 This was meaningful as we later learned that Cuba imports the vast majority of its food supply, with typically 80% of household income going to the purchase of food. Much more on-island production of food is needed to correct this trade imbalance. A highlight of late afternoon birding along the road to the El Albino Reservoir was the Olive-capped Warbler, found only in Cuba and two islands in the Bahamas, as well as Antillean Palm Swift, numerous migrants and waterbirds.
Dinner was in our individual casas. Here is a good place to explain that the business of renting out rooms to tourists is one of the few individual businesses allowed by the Cuban government.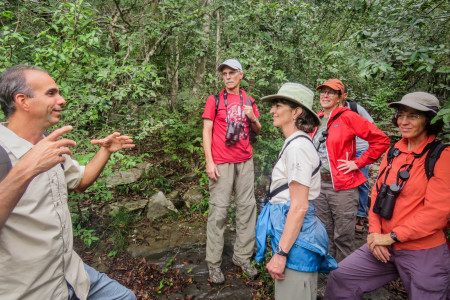 Homeowners have embraced this opportunity, and casas particulares form the most successful micro-enterprise in the country. Currently about 4,000 rooms are rented out to tourists in private homes, more rooms than are managed by all but one of the government tour agencies, which own the rooms in hotels and resorts. Casa particulares are registered with the government, and taxation is extremely heavy, but the income far exceeds formal salaries. Casa owners also provide meals and beverages to supplement the income. We found almost all casas to be rented at a similar low price, though quality was extremely varied!
On Day 8, we did a bit more birding in the hills behind Viñales, then headed east towards Havana. We stopped at a small fruit and coffee farm in Las Terrazas to check off the Cuban Grassquit (we got lovely close-up views of a group in the grass while the farmer provided us with sweet bananas) and also stopped along the highway to see the Cuban Kite and Eastern Meadowlark (Cuban race).
Hasta La Vista, Cuba
Day 8, we spent our final afternoon and evening enjoying Havana again. Several of us sought out souvenirs – rum, cigars, jewelry, chocolate, bongo drums, and art were favorite choices. We checked out shops along Calle Obispo and street vendors along the Prado, and after supporting the Cuban economy, received a presentation on the topic from José Atonio Moreno (aka Pepe), a retired economist and professor. He provided an explanation for much of what we had experienced during our trip – a country with an economy that has languished for decades but is now committed to economic and political reforms that have already seen significant results as they are embraced by the innovative and resilient Cuban people.
We enjoyed a final, celebratory meal at the charming Café de Artes, decorated with vintage instruments and portraits of famous Cuban musicians. One last mojito! Then on Day 9, we were thanking Ernesto and Soby with hugs all around, back in airport lines, declaring to customs, and making plans to stay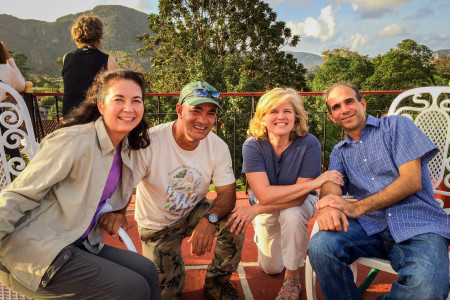 in touch and share our photos. Already there is an intense yearning to go back to see and experience much more of this amazing country before it changes too much, but the wonderful memories of this magical trip will linger for a long time. David, affectionately nicknamed "el Capitan" by Ernesto, commented, "It was the trip of a lifetime, well worth the wait!"
By Lisa Sorenson and Jennifer Wheeler
Stay tuned for the trip report from our March 6-16, 2016 Cuba bird tour. BirdsCaribbean will lead two bird tours to Cuba again in 2017 (January 23-30 and March 3-13) – click here for information. Email us: info@BirdsCaribbean.org.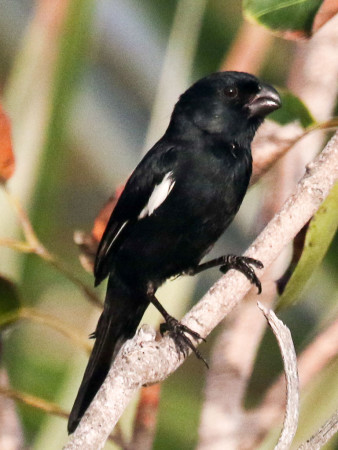 The Caribbean Birding Trail is being developed to raise global awareness of the unique birds and biodiversity of the Caribbean and to create a sustainable economy around these rare species, in an effort to protect them. This new project is an initiative of BirdsCaribbean. We have partnered with and/or trained local tour companies and guides, have first-hand knowledge of the best birding and heritage sites to visit, and know the communities and NGOs that are working to conserve Caribbean birds and nature. Our tours are well-suited for birdwatchers, nature lovers, wildlife photographers, and anyone looking for authentic, unique, and revelatory experiences. Travel with us and know that your tourism dollars will bring benefits to the organizations, communities and people that will put them to the best use. Learn more at www.CaribbeanBirdingTrail.org.