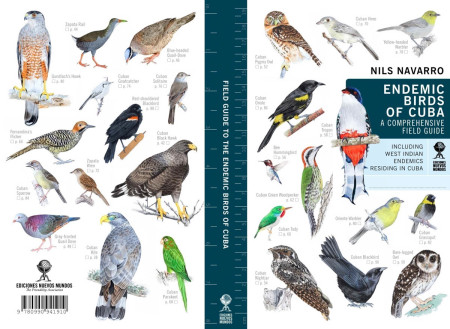 A revolutionary new field guide, Endemic Birds of Cuba – A Comprehensive Field Guide is now available for purchase (scroll down). This ground-breaking guide, authored by Nils Navarro, extraordinarily talented wildlife artist, illustrator and scientist, was over ten years in the making. It promises to set a new standard for field guides.
This is the first field guide focused on Cuban endemic birds. The book is worth owning for the artwork alone. The first thing to note are the large, stunningly beautiful illustrations. Each bird comes to life on the page, thanks to Nils' intimate knowledge of each species from countless hours of careful observation in the field. The author also photographed and studied museum specimens to ensure that all details were accurately captured.
BirdsCaribbean was honored to launch this one-of-a-kind field guide in July 2015 at their 20th International Conference in Jamaica with a keynote address by Nils. Copies sold out immediately with rave reviews by members, avid bird watchers, ornithologists, and conservationists. The guide is praised not only for its gorgeous artwork and comprehensive information, but also for its innovative concept. Unlike other guides, this one combines the best of both the British birding style of writing detailed notes while in the field together with the North American preference of using a field guide and checklists while birding.
The reader is immediately invited to interact with the book by personalizing it with one's name on the cover, which also serves as a checklist for the most common endemics. The ergonomic design and cover flaps that can be used to mark pages make the book ideal for field use. Species accounts include concise notes on identification, status, distribution, habitats, behavior, and food. The accounts are supplemented with easy-to-read distribution maps and symbols (that can be colored in) that provide a quick reference to key information. Silhouettes and illustrations of each bird in various typical postures provide helpful cues for identification, especially in conditions of poor visibility. Blank space on each page allows the user to write personal field notes.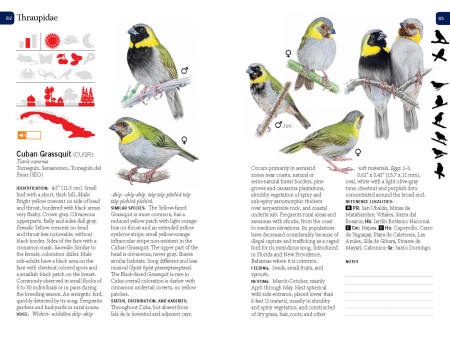 Also included in the book are illustrations and accounts of 22 West Indian endemics that live in Cuba, information and photographs on the different habitat types found in Cuba, and photographs of each endemic species in its typical habitat.
Whether you plan to travel to Cuba for the first time or have been there already, the introductory chapter on Cuba is a must-read. Handy tips on how to move around Cuba, essential birding sites, and which plants to avoid in the field are very helpful. Known as the "Queen of the Caribbean," Cuba's rich biodiversity and endemism are described as well as threats to its bird life, conservation status of threatened birds, efforts to conserve them, and environmental laws in Cuba. There's even a section highlighting the fact some of the smallest animals on earth are in Cuba—from scorpions, bats and frogs to the Bee Hummingbird.
The book's design invites you to take notes in the field. Nils hopes that this will not only enrich your experience, but also improve our knowledge and conservation of the country's birds. Users are encouraged to share their observations with other birders and experts as well as enter their checklists into eBird Caribbean, providing an archive of valuable citizen science data.
Nils' primary goal with this book was to create an increased awareness and appreciation of his country's birds and environment. The book will no doubt achieve this goal and inspire a new generation of nature lovers and conservationists. Beyond the pleasure of owning and using this interactive guide at home or in the field, the purchase of this book also helps bird conservation. Proceeds from the sales will help fund Cuban and Caribbean research and conservation projects. Hundreds of field guides have already been donated to Cuban institutions such as libraries, museums, bird festivals and schools.
This comprehensive guide packed with colorful illustrations and photographs is a must-have for anyone interested in Cuban birds, endemism and nature. Although the book allows one to visit Cuba vicariously, it is essential to visit Cuba in person to explore and see birds in real life. Fortunately, this is now possible thanks to the recent opening up of Cuba to Americans and exciting opportunities to participate in bird tours.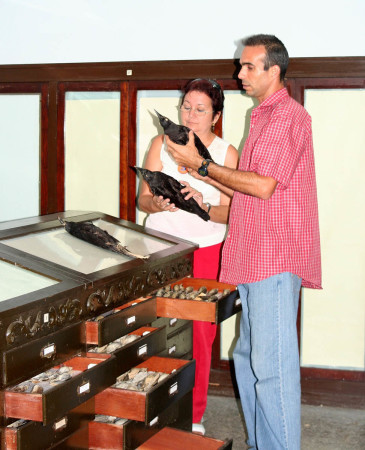 About the Author, Nils Navarro Pacheco
Nils has dedicated his life to the study and conservation of the biodiversity of his native Cuba as well as other areas of the West Indies and Latin America. He holds a degree in Fine Arts with a specialization in painting. He worked for ten years as taxonomist and curator of the herpetology collection in the Museum of Natural History in Holguín where he described several new species of reptiles and amphibians for Cuba. An extraordinarily versatile and internationally recognized wildlife artist and illustrator, Nils' work is characterized by a refined technique combined with a profound understanding of the biodiversity of the Caribbean region. He is an avid conservationist and pioneer for the promotion and formation of young wildlife illustrators and artists in the Caribbean and Latin America. Currently, Nils works from his studio gallery in view of the unique landscape of the Viñales Valley National Park in Cuba and leads the "Working Group for Art and Nature" of BirdsCaribbean. He has contributed his original works to different conservancy organizations for their fund-raising efforts, and participated in the creation of regional books on biodiversity and conservation.
Endemic Birds of Cuba can be purchased from BirdsCaribbean via Paypal or U.S. check or money order. The cost is $22.50 for BirdsCaribbean members; $25.00 for non-members. Shipping and handling in the US is $6.50. International shipping is $26.95. Click here to join BirdsCaribbean; click here to renew your membership. If you are not sure of your membership status, please contact our Administrative Assistant Susan Krupica at: susan.krupica@birdscaribbean.org
Travel to Cuba in 2018 with BirdsCaribbean! We are offering an 8-day trip in January and 11-day trip in March – click here for more details.
To purchase in the U.S., select the book price and click "Buy Now."
To purchase internationally, select the book price and click "Buy Now."
Send US check made payable to BirdsCaribbean OR a postal money order made payable to Jennifer Wheeler, BirdsCaribbean. Mail your check or money order to:
Jennifer Wheeler, BirdsCaribbean
4201 Wilson Blvd, Suite 110-174
Arlington, VA 22203, USA
Endemic Birds of Cuba
By Nils Navarro (Author and Illustrator), Translated by Loyda Sánchez, Prologue by Dr. James W. Wiley.
168 pages, Flexibound (8.5" x 5.5"), original full color illustrations and photos, color distribution maps
Publisher: Ediciones Nuevos Mundos
ISBN 978-99090419-1-0
BirdsCaribbean price: $25
Shipping and handling (within the US) – $6.50
International shipping – $26.95