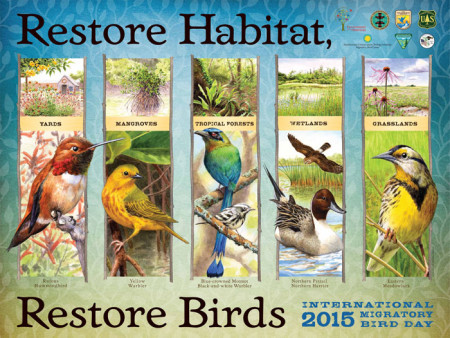 Birds migrate twice each year, once in spring and again in fall. In the Caribbean region, the miracle of bird migrations is celebrated through International Migratory Bird Day (IMBD). IMBD is coordinated throughout the Western Hemisphere by Environment for the Americas (EFTA). In the Caribbean, EFTA works with BirdsCaribbean and other organizations to promote awareness of migratory birds in this region.
The official IMBD date is the second Saturday in May for the U.S. and Canada and the second Saturday in October for Latin America and the Caribbean. Because birds don't migrate on a single day, Bird Day activities take place year-round, and events are best offered when migratory birds are present.
We are delighted to share information about the 2015 IMBD conservation theme: Restore Habitat, Restore Birds. Loss and degradation of habitat are primary threats to bird populations. The 2015 IMBD theme considers threats, such as urbanization and climate change, and suggests ways to get involved in habitat restoration projects at home, in communities, and further afield. Each habitat illustrated on the 2015 poster provides a colorful view of a few of the places migratory birds seek for nesting, wintering, or as stopover sites during migration using the beautiful work of artist Amelia Hansen.
IMBD is celebrated in Canada, the United States, Mexico, Central and South America, and the Caribbean at protected areas, refuges, parks, museums, schools, zoos, botanical gardens and more. More than 700 events and programs are hosted annually, introducing the public to migratory birds and ways to conserve them.
For coverage of IMBD 2015 in the Caribbean, follow along here on the BirdsCaribbean blog and on the Caribbean Bird Festivals Facebook page. If you are interested in hosting an event contact us and be sure to check out the amazing collection of IMBD resources available online.