BirdSleuth Caribbean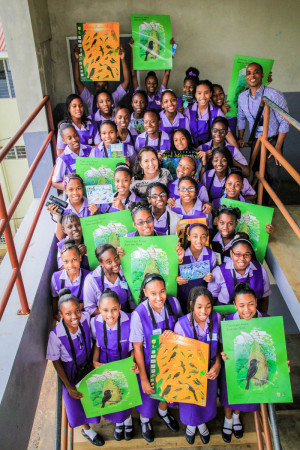 Birds are engaging and a fun and wonderful way to get youth interested in nature, science, and inquiry-based learning. Through our new BirdSleuth Caribbean program we are training teachers in the Caribbean to involve young people in the natural world and build their science skills. The overall goal is to develop a strong conservation ethic in young people and promote commitment to environmental stewardship by increasing their knowledge and interest in birds, nature and science.
The program uses the innovative BirdSleuth International curriculum developed by the Cornell Lab of Ornithology and adapted for the Caribbean context. BirdSleuth is an inquiry-based science curriculum that engages kids in scientific study and real data collection through the Cornell Lab of Ornithology's exciting citizen science projects, such as eBird.
The curriculum is supported by a kit of materials for educators that contain resources and materials needed for carrying out the lessons, such as laminated bird silhouettes, games, field guides, binoculars and spotting scopes, art and craft supplies, and much more.
The first BirdSleuth Caribbean Training Workshop was held from November 29–December 1, 2012 at the Bahamas National Trust's Village Road Retreat in Nassau, Bahamas. Twenty-four Caribbean middle school educators and partners from 3 pilot countries (Bahamas, Jamaica, and Antigua and Barbuda) took part in the classroom and field sessions and learned how to deliver the activities, identify and collect data on resident and migratory birds, and enter checklists in eBird Caribbean. A second International Training Workshop was held in October 2014 for 27 participants from 19 countries.
If you are interested in learning how to implement the BirdSleuth Caribbean curriculum at your school, science club, summer camp or other program, email Lisa Sorenson for more information about training and materials for the program.
The BirdSleuth Caribbean curriculum and supporting materials are available for free download in English, Spanish and French. Click here to download.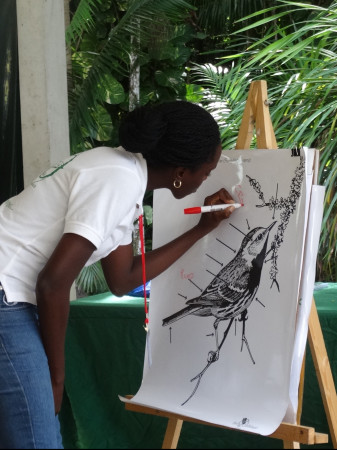 Read about the success of this project in these articles:
BirdSleuth Caribbean Brings Protection for Resident and Migratory Birds in Carriacou, Grenada.
BirdSleuth Caribbean featured in ZiNG magazine.
Rural Teachers make Bird Connections in Seville, Jamaica.
Empowering Youth to Garden for Wildlife in Grand Bahama.
Connecting Communities and Conservation with BirdsCaribbean.
Environmental Educators Become BirdSleuths in the Bahamas.
We thank the US Fish and Wildlife Service, US Forest Service, Parc National de la Guadeloupe, and Optics for the Tropics for their generous support of this project.