Caribbean Endemic Bird Festival
BirdsCaribbean is working to increase awareness and appreciation of the region's unique bird life through an annual Caribbean Endemic Bird Festival (CEBF). The theme of the 2017 festival is "Our Endemic Birds—Sharing "Stopover Sites."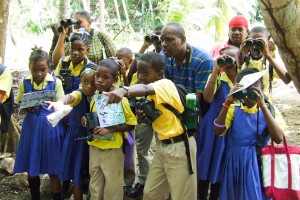 An impressive 31% of the ~565 species of birds within the region are found nowhere else in the world! At dozens of events throughout the region, participants of all ages will learn how national and international laws help to protect the unique birds found only in the Caribbean. Activities are organized by local organizations in each Caribbean island/country and include presentations, bird walks, art competitions, clean ups, and more.
BirdsCaribbean has hosted this festival for 16 years. The month-long celebration includes Caribbean-wide activities beginning on Earth Day (April 22), through to International Biodiversity Day (May 22), in more than twenty countries. The event celebrates the 172 bird species that are found only in the Caribbean, known as endemics. The highly successful program attracts over 100,000 participants and volunteers each year.
Resources for Coordinators for 2016
Read all the latest updates about the Caribbean Endemic Bird Festival and its activities throughout the region.
International Migratory Bird Day (IMBD)
The long journeys that migratory birds take each year are truly fantastic. These birds, like our endemics and residents, are part of our natural heritage and it is up to us to conserve the habitats they need to feed and rest during winter or their long migrations. We encourage all of you to celebrate IMBD in your own country, as you have celebrated the Caribbean Endemic Bird Festival with great success for many years now. In 2017, the theme is "Stopover Sites—Helping Birds Along the Way." We have a new poster, webinar, Migratory Birds of the West Indies Colouring Book, t-shirts and other materials to help you celebrate. Great resources for celebrating IMBD can be found at Environment for the Americas website (home of IMBD) and MigratoryBirdDay.org.