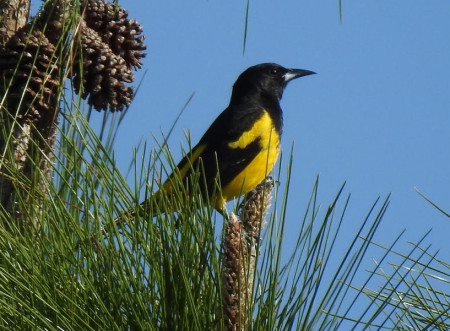 The sun was now enough above the horizon that a few rays made it down to the understory of the pine forest. We walked quickly to our next point then began another nine-minute sampling period. About one minute in, we heard the clear crisp song of a Bahama Oriole, about 100 meters to our south. My student Briana noted this information on the data sheet. While waiting, she also recorded details about the habitat and the surrounding vegetation within a 100-meter radius: number of pines – 100+, number of understory palms – 10-20, number of coconut palms – 0, overall habitat – 100% pine forest.
The oriole sang several more times before the point count ended. Just 18 months prior, when we began the Bahama Oriole Project in October 2015, we would have been extremely surprised if we found an oriole in the pine forest. Previous research suggested that the orioles were concentrated in the settlements, especially around coconut palms, which were thought to be their preferred nesting tree. But in 2016, our team had discovered three different pairs of orioles nesting in this very pine forest, several kilometers from the nearest houses, farms or coconut palms. Now we were conducting an exhaustive population estimate to determine whether the orioles were found in just a few areas in the pine forest, or whether they were utilizing many areas of the pine.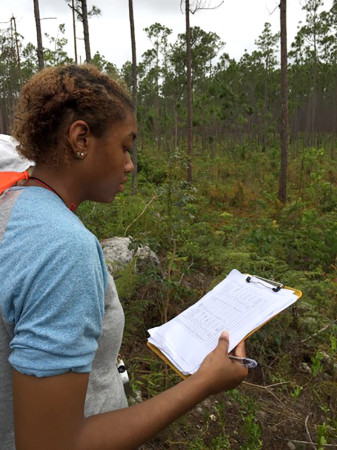 We continued to walk along the long-abandoned logging road to the next randomly selected point. As we gained just a few feet in altitude, the pine forest became drier, and the gorgeous understory Key Thatch Palms became shorter and more scattered. I honestly feel ecstatic to be able to work in these vast remote forests, and as we walked along, I asked Briana what she thought of the habitat. She quickly spoke glowingly of the same features that I love so much – the open canopy, the echo of a Bahama Mockingbird song, and the unfamiliar beauty of the understory thatch palms.
This was Briana's first fieldwork in the tropics, and she was off to a great start. As we walked, I asked her what she wanted to do after she finished college at UMBC. She said that this was exactly the kind of work that she had dreamed about doing – working on a tropical island, studying a critically endangered species, and seeing all these new birds and habitats. She had just finished her sophomore year as a Geography and Environmental Sciences major. Briana is in UMBC's prestigious Meyerhoff Scholars Program, which is nationally known for its success in increasing underrepresented minority participation in science and technology.
Breeding in the Pine Forest – "Briana's Nest"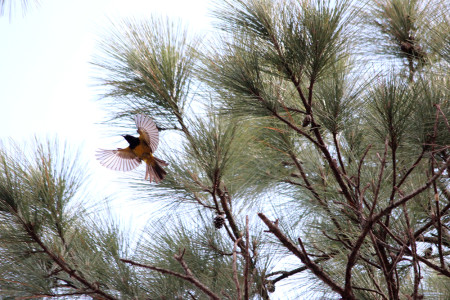 We conducted eight more counts that morning, and we did not hear or see any other orioles during the counts. However, as we continued west toward our meeting point on one of the main logging roads, the land sloped down again and we entered a wet area with many more understory thatch palms (so named because of their local use in roof making). The common species here is the Key Thatch Palm (Leucothrinax morrisii). To me these palms are the most beautiful plants on Andros, and they have intrigued me since my first days on the island. As we walked, suddenly Briana and I both heard a distinctive short "see-you" whistle, which meant a Bahama Oriole was nearby. She pointed as an oriole flew from one low thatch palm to another. Then, a second bird flew in and swooped up to one of the tallest of these understory palms. I whispered excitedly to Briana that maybe there was a nest nearby.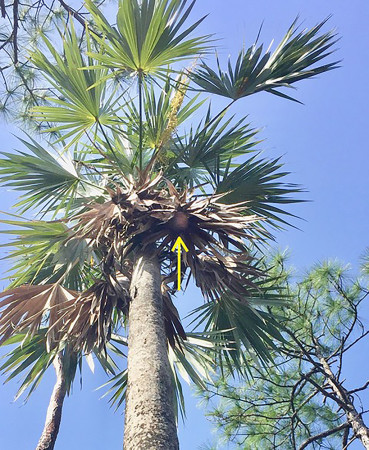 The first bird then entered the same tall thatch palm. There had to be a nest in that tree, so we approached and started looking under each of the hanging dead fronds. There it was: a neat tan palm-fiber basket, hanging protected under one of the dried-up fronds. We christened it "Briana's Nest" and stepped back to observe the parents – two stunning adult Bahama Orioles. Both the males and females in this species sport a striking jet-black and lemon-yellow plumage. Both sexes also sing, so it is impossible to tell the sexes apart in the field. We observed both parents bringing food to the nest – there were clearly nestlings, but with the nest over seven meters up, we do not yet have the equipment to further investigate their age or number.
The project has now documented seven nests in the pine forest – three in 2016 and four in 2017. But we know nothing about what happens to nests in the pine forest. In 2018, we will conduct two main projects to evaluate breeding in the pine forest. First, Brianna will lead a project quantifying the key characteristics of the nesting trees and surrounding forest. Can the orioles nest in any part of the pine forest, or are there certain types of habitat (perhaps with tall thatch palms for example) that are preferred nesting sites that need to be preserved? Second, one of the Bahamian students will lead the effort to quantify nesting success and determine the greatest threats to nests – rats, cowbirds or feral cats. So far, we have little evidence of cowbirds in the pine forest, but preliminary surveys with trail cameras suggest that feral cats are likely widespread across the island. And arboreal rats could be important nest predators. Which if any of these threats are significant causes of mortality that need to be managed?
A Big, Diverse Field Crew
Soon we were joined by the two other teams that had been doing point counts that morning. One was led by Rick Stanley, a Masters student at the Imperial College London. The other was headed by Scott Johnson, a Bahamas National Trust science officer – who has a wealth of knowledge about the flora and fauna of Andros. We showed everyone the nest we just found, then compared notes from the morning. Rick's team had also heard one oriole during counts in the pine that morning, and Scott's team had heard two. The orioles are never common, but they seem to be widespread on the island.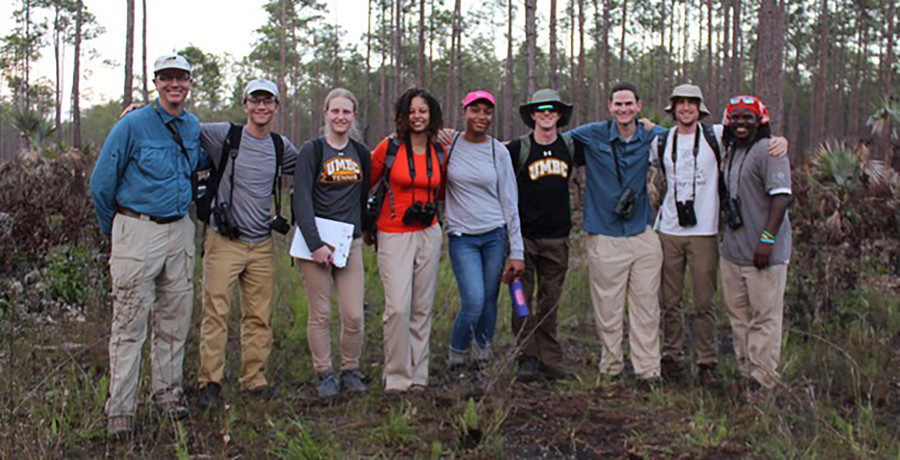 Before leaving we took time to take some shots of the whole 2017 field crew. I look back upon that photo with a great deal of pride and gratitude. Each one of those young researchers has already made important contributions to the project. It is such a privilege to do fieldwork with students every year. For many of the students, this is the first time that they have traveled outside the US – one had never even been on a plane before this trip! The opportunity to introduce these students to the joys (and challenges) of tropical fieldwork is one of the best parts of this project. I am especially excited when my students get to work with BNT's Scott Johnson and interact with students from the Bahamas.
Our shot of the field crew differs from many group pictures of field biologists or birders because it includes people of many different backgrounds. By drawing on UMBC's diverse student population, and by working closely with our Bahamian collaborators, we are trying to bring a broader range of backgrounds and perspectives to fieldwork and wildlife conservation. Work throughout the Caribbean demonstrates the kinds of multinational and multiethnic collaboration that will build capacity in our increasingly diverse US population as well as in the island nations that are the focus of BirdsCaribbean.
Dr. Kevin Omland is a faculty member in the Biology Department at the University of Maryland, Baltimore County (UMBC). In collaboration with Bahamas National Trust, he began the Bahama Oriole Project in 2015. Dr. Omland was recognized as the UMBC Presidential Research Professor for 2016-2019. He is co-chair of the Diversity and Inclusion Committee of the American Ornithological Society. The Bahama Oriole Project has received generous support from the American Bird Conservancy and an anonymous donor through BirdsCaribbean. Stay tuned for updates from our upcoming 2018 field season.