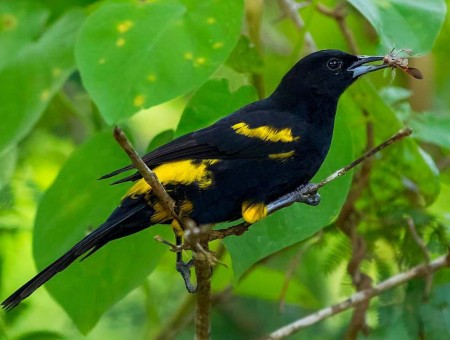 Cuba has one of the highest rates of endemism in the Caribbean with 26 endemic birds that attract thousands of bird enthusiasts each year. Engaging them to understand the secret lives of these birds is a special skill. From October 9 to 13, the Caribbean Birding Trail Interpretive Guide Training course taught 26 persons how to connect visitors with the cultural and natural resources of the island. Here is the account of one participant, Mariana Pedraza.
Topes de Collantes Nature Reserve Park in the Escambray Mountains in Central Cuba was our home for a week. We were more than thirty people from all over Cuba ready to learn, to share experiences, and to discover a little more regarding the world of birds. With great energy we began the week-long workshop. But what we did not know was that first we had to answer a pre-test! I saw some participants writing. Others, including me, were not writing much. We looked at each other and laughed at our lack of knowledge. The good thing was we were there to learn. I knew that "the professors" (that's what we called our instructors) were going to do their best to teach us how to identify birds; understand the diversity of birds in the Caribbean and on our Island, and learn how to be an outstanding guide.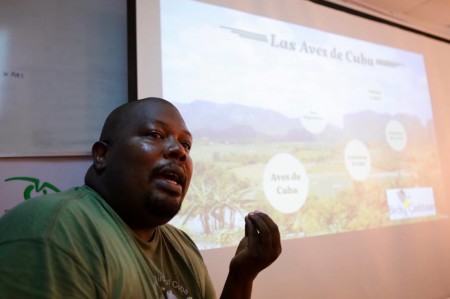 Then it was time to introduce ourselves! I was very worried, because I was the youngest and the least experienced in that classroom. I could see that by listening to the rest of the group.
I soon forgot about my nervousness because very quickly we jumped into the course material. Beny Wilson, one of the lead facilitators with a charismatic personality and great sense of humor, began to talk about birds and how to identify them. We then went outside to learn how to use binoculars correctly and to identify birds, taking into account what had been learned. We had many sessions in the field during the week where we learned and practiced new guiding techniques, such as how to set up a scope and show the bird, how to use a laser pointer and playback, where to stand and how to lead the group when giving an interpretive talk and walk. We also learned about the different types of birders and what they need, how to market ourselves, birding ethics, use of eBird Caribbean, and much more. That was the whole course: we were able to combine theory with practice, which helped to consolidate everything studied.
Presentations by Rosendo Martinez, Maikel Canizares, Ernesto Reyes, and Lisa Sorenson were very well received by all. Each one provided valuable information, such us an overview of the Protected Areas of Cuba, the species of birds threatened on our island, bird ecology and habitats, how to guide photographers and researchers, and the work of BirdsCaribbean and many partners for the conservation of the birds in this region.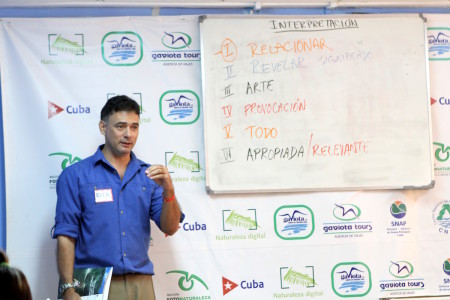 With Rick Morales, the other very talented lead instructor, we learned about environmental interpretation—how to tell stories with a message to make the experience memorable for the visitor. The interactive methodology he used to teach us was great. With theory and very clear examples he showed the importance of understanding the needs of our customers and making their experience meaningful through guiding presentations that are engaging, relevant, personal and provocative. And the best thing is that this knowledge can be used whether explaining the history of a plaza during a city tour, or explaining the natural history of a bird on a guided walk.
We all learned from each other too. I suppose that happens in similar events, but in this case we learned with simplicity and naturally, without rivalries, as if we had all been from the same family. During that week, we were a family of birders! It did not matter the origin, nor the language, nor the differences of all the participants.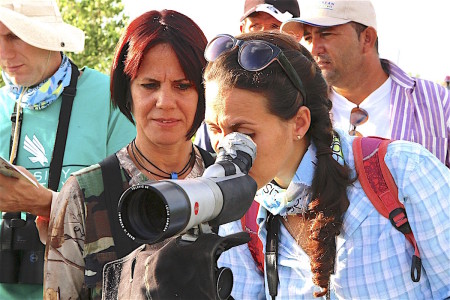 Free time was the opportunity to know each other and to tell about our lives. Graceful stories and some sad stories were the subject of the long evening gatherings, which I attended, even knowing that I had to get up early to go to Tuna de Zazas to discover the Black-Necked Stilt and fall in love with her, or to get on the trails of Topes to contemplate time and again the beauty of the Cuban Tody.
The hardest thing for me was to prepare the final presentation. I think it was the most complex for everyone, because we had to act before an audience we knew, and knowing that our professors were evaluating us. Presentations such as those of Ningo, Xóchitl and Tania excited us and evoked strong applause. None of us knew who the good actors and actresses were!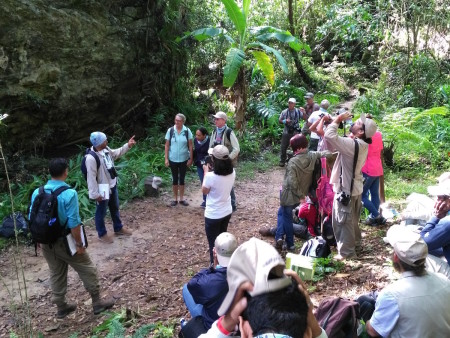 Well, the surprise was the final test, the same test we did at the beginning and this time we were able to respond completely. We looked at each other again and laughed, but it was because this time we knew the answers.
The closing dinner was delicious, especially the dessert, and after dinner: good Cuban tobacco and great music. We were proud to receive our certificates and cheered for the presentations that received awards. Most important was dancing, and celebrating all that we learned and experienced, and wholeheartedly thanking the organizers, instructors, and sponsors of the workshop for supporting us to become guides to share our passion for Cuban birds with communities and visitors alike.
Mariana Pedrazas is a student at the University of Havana, studying German, English and tourism. She leads guided tours of Old Havana in her spare time. She looks forward to becoming a skilled bird guide too and practices whenever she has the chance. (see more workshop photos in the gallery below)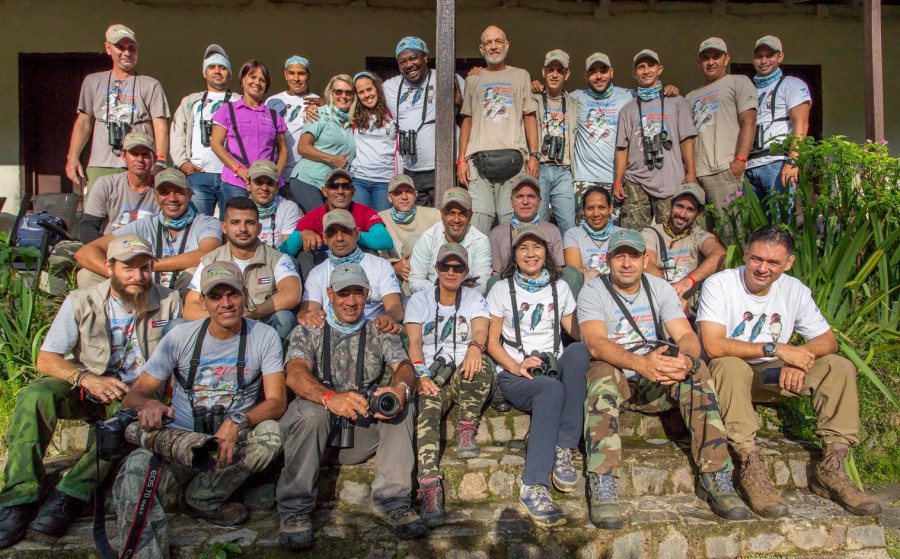 Comments from the participants
Unquestionably after receiving this workshop I feel that my knowledge to project myself as a guide will improve immensely.
Our instructors were very good teachers and communicators, with excellent command of the subject and very didactic. They have become part of our great family of Cuban birds lovers and protectors.
The exchange of experience between everyone was very rich. The teaching approach used, including many practical activities, was motivating and left us with a desire to continue to surpass ourselves and to remain linked to the conservation of biological diversity in general and of birds in particular. I thank the instructors for their professionalism and their willingness to transmit their knowledge and experiences with humility and passion. It was a privilege.
This course is an excellent start for my work as a guide and it is not that I have guided before, but this week marked a before and after.
I would recommend it because it was a fantastic experience, it raised me to another level as a birdwatching guide and will be of great interest to everyone, even for non-bird lovers. I would like this workshop to continue and be repeated here in Cuba.
I am grateful to the facilitators for the knowledge shared, for their facility to communicate, for their willingness to help at all times, and the magnificent human relationships that they established with the participants.
The course was very complete, because it not only provided us with tools to identify difficult birds, but also instructed us in interpretation techniques. For me, as a biologist, the most valuable thing was the experience in the latter since I really had no idea of the fundamental concepts of interpretation and now I can apply it correctly. I also appreciated the work done by BirdsCaribbean for the conservation of Caribbean birds because we often feel that we are not heard and it was very good to receive support from organizations willing to put a grain of sand for the preservation of our birds.
I think the best thing about this course was the attention to personal/individual needs of each participant.
I appreciated and learned a proper way to perform an interpretation, it was a great pleasure to have the opportunity to receive these contents from people who are highly qualified. I also enjoyed the interrelation with other experienced guides to improve my work as a professional. Excellent!
The possibility of interacting and learning with so many interested people, in one way or another, to care for and preserve Cuban birds was valuable. The ability of coaches to provide us with information and tools to do our job better was excellent. Thanks to BirdsCaribbean, the Caribbean Birding Trail, Optics for the Tropics, and all the sponsors that made this possible.
I found and enjoyed that the teachers showed great interest in the learning of each participant, it was the best way to continue training us.
Excellent team of facilitators: experts on the subject, motivating, inspiring, joyful.
I believe that this workshop is highly recommended for those who intend to start or already lead specialized (birding or nature in general) tours, due to interpretation tools and guiding skills that facilitates us. The course instructors showed at all times great professionalism and communicative capacity to answer participants concerns. Highly recommended!
I liked this course because it taught us to conscientiously interpret the resources we have. In addition to dealing with the subject of birds, we addressed general issues that serve us both in the city and in nature. Bravo!
I am grateful for the excellent and professional work of the instructors and organizers of the course, and for the pleasant way in which they taught the course. This course far exceeded all my expectations.
Photo Gallery – Hover over each photo to see the caption; click on photos to see larger images and a slide show.
Editor's Notes: The Caribbean Birding Trail (CBT) is a project of the non-profit organization BirdsCaribbean. The CBT is being developed to connect people to the unique birds, extraordinary places, diverse cultures and people of each island. We promote authentic experiences that benefit local people and encourage the protection of the Caribbean's natural resources, including birds and their habitats.
The goal of the CBT Guide Training is to provide interpretive skills that engage the client and add a level of professionalism to guiding bird enthusiasts. Cuba is the fifth Caribbean country to receive this training. The intensive five-day workshop covered all aspects of being an outstanding bird and nature guide, including knowledge of bird ID and natural history, ethics, marketing, conservation, and guiding and interpretation techniques.
Certified interpretive trainers from the National Association of Interpretation (NAI), Venicio (Beny) Wilson and Rick Morales, wowed the participants with in-depth sessions on the birding market, communication skills, and the principles of environmental interpretation. Thanks to our sponsors, all participants received binoculars, three field guides, NAI workbook, mangrove identification guides, t-shirts, hats, field notebooks, laser pointers, Bird Checklist of Cuba, and more.
BirdsCaribbean thanks Maikel Canizares and the Cuban Zoological Society for organizing the workshop logistics. The facilitation team included Beny Morales, Rick Wilson, Lisa Sorenson, Joni Ellis, Ernesto Reyes, Maikel Canizares and Rosendo Martinez. We are grateful to Optics for the Tropics and the Marshall Reynolds Foundation for providing principle funding for this workshop. We also thank Black Swamp Bird Observatory, Vortex Optics, The Friendship Association, Nils Navarro, Gaviota Turismo, and several private donors for providing funding and  support. We look forward to continuing to nurture these guides as they develop their  skills.
Read about the Caribbean Birding Trail Guide Training Workshops in other countries:
Loving the Lora and Chasing the Chuchubi at Bonaire's Caribbean Birding Trail Guide Training Workshop
On the Caribbean Birding Trail in the Dominican Republic
Caribbean Birding Trail Conducts First Guide Training Program for 24 Participants in Jamaica