Here's your chance to win one of four fabulous prizes and support conservation of Caribbean birds!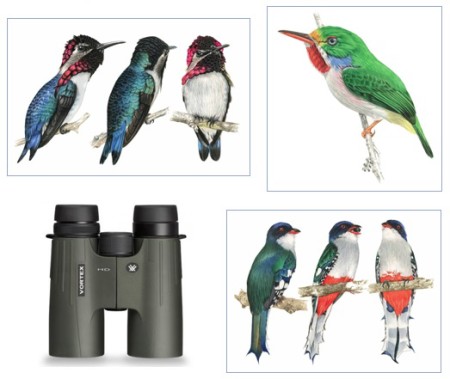 BirdsCaribbean's 1017 Raffle features Cuban Endemic Bird Original Art: the Bee Hummingbird (the world's smallest bird), the charismatic Cuban Tody, and the gorgeous Cuban Trogon (national bird of Cuba). These paintings are by acclaimed Cuban wildlife artist Nils Navarro and were generously donated by the artist. The giclee prints are signed and numbered, and ~8.5 x 11 inches in size.
The fourth prize is a brand new pair of binoculars—Vortex VIPER HD 8X42 ROOF PRISM BINOCULAR. This premium-quality, award winning binocular is packed with everything you need and nothing you don't. It is rugged, waterproof, compact and lightweight (one of the lightest full-size binoculars on the market)! In addition, the binoculars come with Vortex's amazing unlimited, unconditional life-time VIP Warranty! Thanks to Vortex Optics for kindly donating this prize!
The drawing for the Raffle is on Saturday October 21st, 2017. Now is the time to purchase tickets! Proceeds from the raffle support our conservation programs and provide travel support for BirdsCaribbean delegates to attend our workshops and conferences.
Tickets are $5 each or five for $20. Contact us to let us know how many tickets you would like. You can pay for the tickets online, or request other payment options when you contact us. Remember to get your tickets before October 21st, and good luck!
It only takes one to win, but you can't win without one!