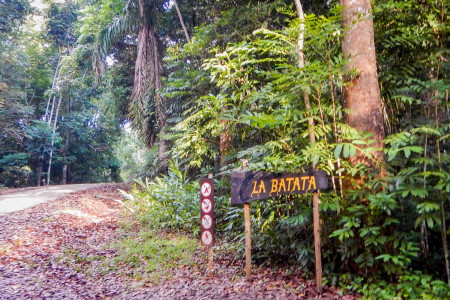 The moment had finally arrived. It was time to add my name to the list for the mid-conference field trip to Trinidad. Leading up to my arrival in Cuba I religiously kept tabs on the mid-conference field trip page. I had an unfounded fear that the trip to the nearby town of Trinidad would be cancelled. I expected that by the third day I would be over-stimulated by the greenery of Topes de Collantes from early morning birding and that visiting a town would be a welcomed change of scenery.
Unfortunately, the comfortable bed at Los Helechos had a stronghold on me and I never joined the early morning birders. To compensate for my lack of will I wrote my name down for the Batata-Codina trip which promised a visit to a coffee house museum, a hike to a cave, lunch at Hacienda Codina and a mini- tour through one of the villages within El Parque Codina. I was quite satisfied by my decision and did not waste time second guessing myself.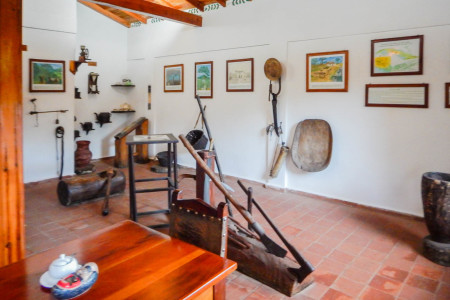 The trip started from outside the Los Helechos Hotel where the tour guide had herded everyone and was ticking off names from his list. We were taken to the coffee house museum in an old Russian army truck—the primary mode of transport for conference attendees and really an adventure in itself. Although small the museum allows visitors to sip and enjoy the aromatic local brew while learning about coffee's boom-bust history in Cuba. It was hard for me to concentrate on history when each window of the museum provided breath-taking vistas of mountain peaks in the park.
While some people were still enjoying their coffee others decided to look for birds. And I was very glad to be part of the latter group. Cuban Parrots were squawking among themselves in some trees across the road. A few minutes later a pair flew out and perched on a mostly leafless tree in the morning sunlight. We also saw a West Indian Woodpecker, Western Spindalis, Smooth-billed Ani, Scaly-Naped Pigeon and an American Kestrel.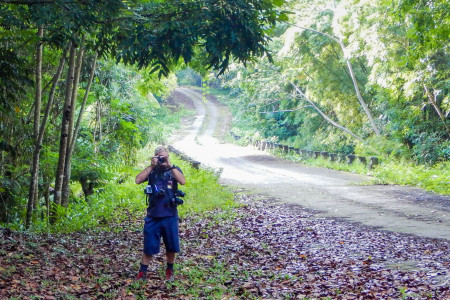 Further down the road someone saw a Cuban Grassquit which sent the entire group jogging in that direction. But before we got to the grassquit a Cuban Trogon was spotted which prematurely stopped our jog and redirected our excitement. The trogon kept flying from tree to tree until it settled on a branch when we thought it had finally adjusted to our presence. It had not! It flew off again, leaving me, and possibly a few others, with my camera set to take a great shot. By this time the grassquit had also left. Nonetheless the trip started off with much excitement and we were hopeful that it would carry on during our hike through the forest.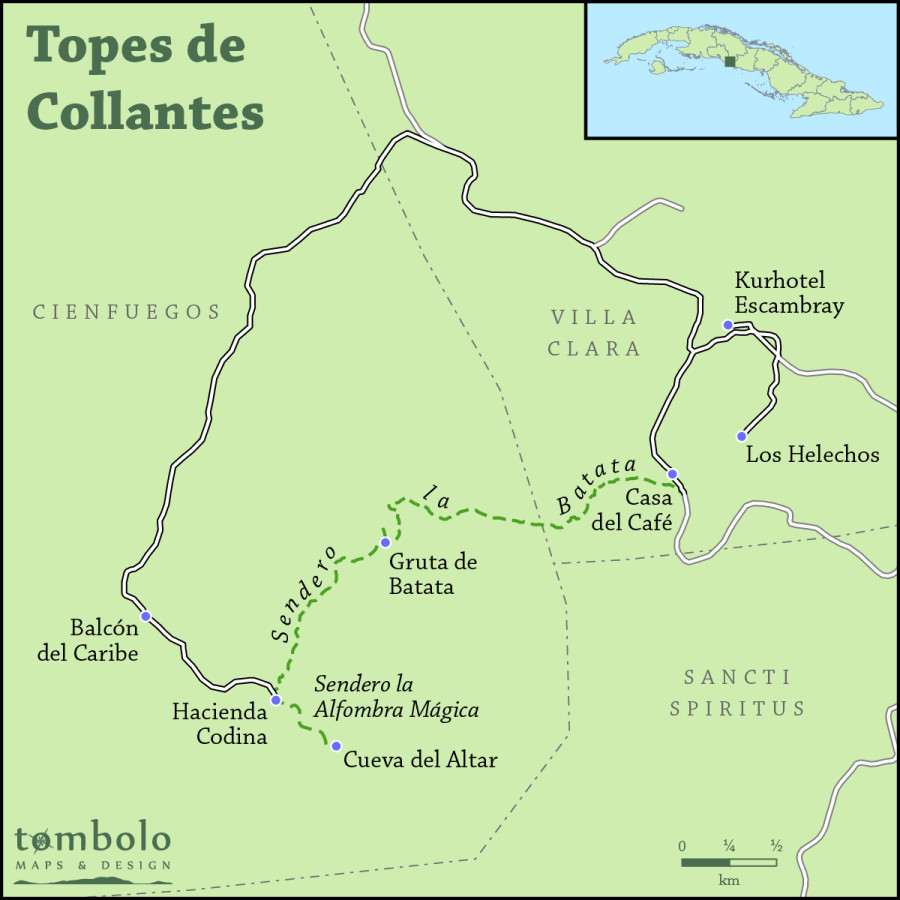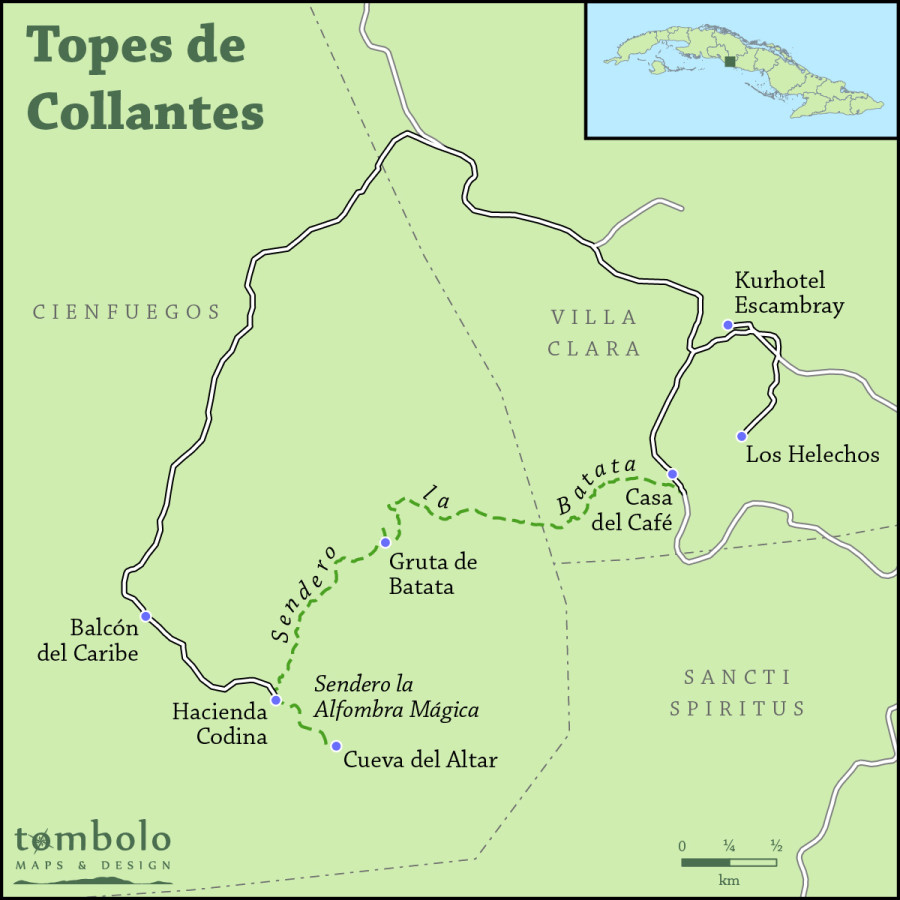 Not too far from where the trogon was spotted we began our trek to the cave. The trail at first was very narrow. We stopped momentarily to smell flowers and inquire about origin and scientific names. I can't recall seeing any birds at the beginning but we saw lots of trail signs. When we finally reached the La Batata sign a group photo was definitely needed. Our guide offered to take our photo and so he did equipped with about six cameras. Fortunately he had a system after each picture was taken he transferred the camera to his left arm.
As the incline began to grow our guide spotted a Cuban Tody. Because of the bird's small size I spent no less than 15 minutes on this first incline trying to locate the bird. The next bird we encountered was a Great Lizard-Cuckoo. A relatively large bird with a long gorgeous tail when fanned. Like the trogon we saw at the beginning it did not sit still. The cuckoo kept flying up and down the trail and we willingly followed just to catch a glimpse. Not long after we continued climbing up the mountain did we see a Cuban Pygmy Owl. It was amazing to see an owl perched so close to the trail and generally nonchalant about a group of people staring at it.
We began our descent as we got closer to the cave. Mentally and physically I felt fine the air was cool and the only nuisance up until now was mosquitoes. My toes however felt like they were about to burst through the toe cap of my hiking boots. Every so often I had to stop and knock my heels against the floor for some much needed relief.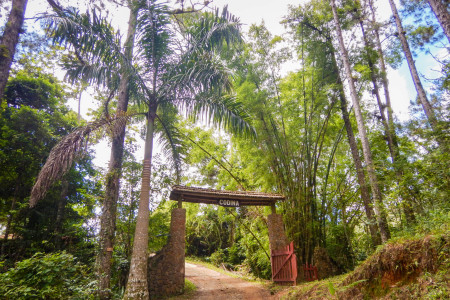 Eventually we reached the stream leading into the Batata cave where some brave souls refilled water bottles. Stream rocks are notorious for being slippery and these were no exception. One group member tried crossing the shallow stream on his own and ended up slipping off a rock. In unison we all asked if his camera was okay. He was using a professional camera with the type of lens you think is long enough to see into your soul. Yes, the camera was okay but everything else got drenched as well as I suspect his dignity. I did not venture into the cave as I am not a fan of hiking in wet socks and boots. We were only at the halfway point.
Once cave exploration was completed, we began our second ascent and it was steep! Our birding/photo hiking group was broken into the healthy hikers and summit hikers. The summit hikers were at the forefront with their eyes glued on the prize. I certainly was not a member of this sub-group. Although not terribly drained from the uphill climb and distance the healthy hikers were not interested in bagging a prize. I am really not ashamed to say I welcomed rest stops that allowed me to rehydrate and power on.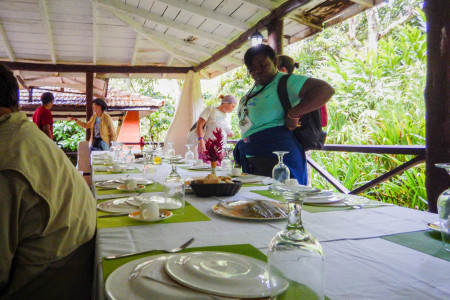 By the time everyone had regrouped by the entrance to Codina Park I was anxious to get to Hacienda Codina to feast on authentic Cuban food. Hacienda Codina is situated in a pine forest clearing and because it is literally off the beaten track it is a tranquil spot. It has a lovely little restaurant and bar surrounded by local flora. I ate one of the best meals at the restaurant. During lunch I also learned about life on islands in the Greater Antilles. BirdsCaribbean has the most diverse group of passionate and absolutely hilarious members.
After lunch it was back on our Russian army truck for a scenic drive through rural landscapes. Although overcast I really enjoyed seeing the houses and villagers trotting down the road on horseback. We stopped by a market/ craft stall ran by a local villager. She offered us samples of her homemade fudge and nut bars. The coffee lovers could not resist purchasing the fresh coffee beans.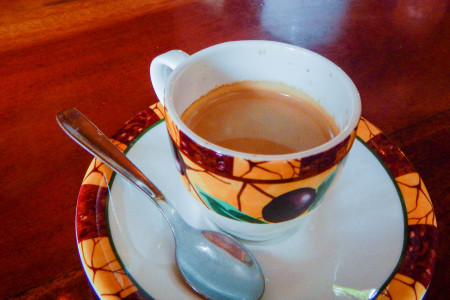 To end the trip we went back to the coffee museum to enjoy our complimentary shot of espresso. I was a bit hesitant since I had never had it before and I was warned that it would not be able to sleep that night. Casting all fears aside I accepted my shot of espresso and was not disappointed. Although considered taboo in some cultures I added a demitasse spoonful of sugar to it. The only side effect I suffered was the inability to control the pitch of my voice and I had the sudden urge to talk to everyone. If you are wondering, I slept like a log that night. Sleep came easily, most likely from being pleasantly exhausted from a full day of coffee history lesson, birding at an incline, and enjoying a locally prepared meal.
This article was contributed by BirdsCaribbean member Aliya Hosein from Trinidad and Tobago. When she's not on a BirdsCaribbean mid-conference field trip, she's often writing about parrots and helping people understand that they belong in the wild.