How many birds can a world of birders find in one day? Hopefully, you will join us to find out on May 13th — Global Big Day. This is the single biggest day for eBird and we're inviting everyone to spend some time counting and enjoying Caribbean birds to help support global conservation efforts (and to have some fun in the process). Last year was a huge success that broke records around the world and across the Caribbean. The question is: Can we do it again?
More than one hundred Caribbean birders participated in last year's Global Big Day, setting a new Global Big Day record for the Caribbean itself- 428 species! Thank you for making this possible. Your contributions to the past two Global Big Days have set back-to-back world records for the most bird species seen in a single day. Last year's Global Big Day featured more than 60% of the world's bird species in a single day (6,299!), with sightings coming in from more than 17,500 eBirders spread across 154 countries. 
Want to be a part of the fun this year? If you need an excuse to go enjoy birds on a lovely weekend day in May, we've got you covered. The West Indies, with it's 175 endemic bird species, along with it's near endemics and endemic subspecies, will be key in gathering a snapshot of bird distribution around the globe. 
If you're looking to get started preparing for this year's Global Big Day, here are four quick ways to have the most fun:
No matter what you do—have a great time, enjoy the birds around you, and let us know what you find! We're excited to see what we can achieve together on Global Big Day.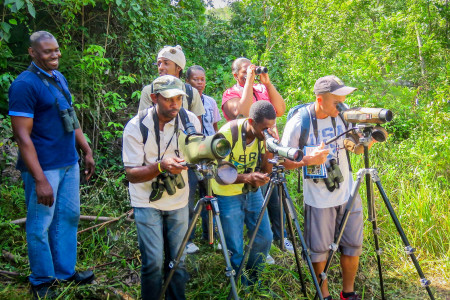 And don't forget to enter your Caribbean bird counts into eBird Caribbean – our own portal. All the data goes to the same place but we have some of our own protocols (Step 2 of data submission), for example, counts conducted at wetlands, ponds, mud flats and beaches can be entered as Caribbean Waterbird Census counts.