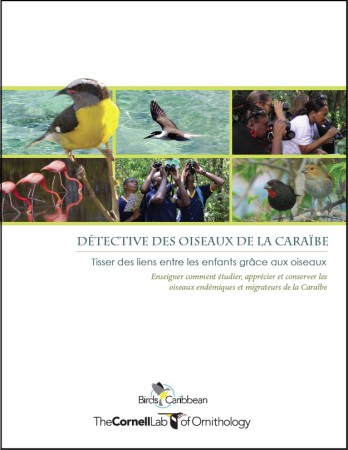 BirdsCaribbean is excited to announce that our popular BirdSleuth Caribbean curriculum and supporting materials are now available in French.
BirdSleuth Caribbean is an innovative program designed to teach young learners how to study, appreciate and conserve Caribbean birds. It is part of a larger BirdSleuth program developed by the Cornell Lab of Ornithology. The original, US-based BirdSleuth program was adapted specifically for the Caribbean and has been a success in engaging students across the region with their native birds.
This BirdSleuth curriculum includes many fun activities which are perfect for kids that benefit from a hands-on lesson—and who doesn't? Activities include creating a bird journal, learning how to use binoculars, and conducting bird counts. The best part is, these are the same skills that adult birdwatchers and scientists use. In fact, the bird counts can be entered into the citizen science website eBird Caribbean and used in actual scientific research! This teaches kids that their observations are important in addition to building their science skills. Their data can help scientists learn more about complicated topics like bird migration.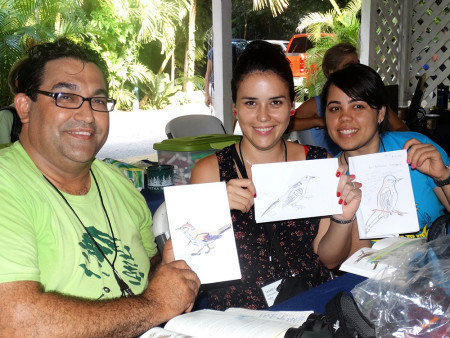 One benefit of the program is the opportunity to get kids out into nature where they can be active, and observe and connect with the animals in their environment. The overall goal is to develop a strong conservation ethic in young people and promote commitment to environmental stewardship by increasing their knowledge and interest in birds, nature and science. Because of the diverse cultural backgrounds in the Caribbean, it is important that BirdSleuth is available in the languages spoken across the region.
Twenty-seven educators from around the region attended an intensive 3-day International Training Workshop for BirdSleuth in the fall of 2014 in Nassau, Bahamas. Since then they have been using the English and Spanish versions of the curriculum to train local teachers how to use the program. They have also been using BirdSleuth activities in their annual bird festival events, after-school programs and summer camps with great success.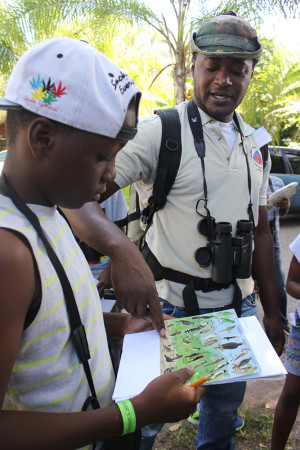 "We can't wait to use the curriculum here in Guadeloupe" said Anthony Levesque. "It's so important to teach our young people about science, nature and conservation – birds can definitely act as that spark to ignite an interest in the natural world. Students also learn that they can contribute to local conservation efforts and science through their actions."
Read more about our BirdSleuth Caribbean program here. The curriculum and supporting materials are available for free download in English, Spanish and French at this link. A limited number of printed copies will also be available. Contact Lisa Sorenson at Lisa.Sorenson@BirdsCaribbean.org for more information.
We are grateful to Parc National de la Guadeloupe for funding the translation of the curriculum to French. Many thanks to Nathalie Hecker for her excellent translation of the BirdSleuth Caribbean curriculum and materials.