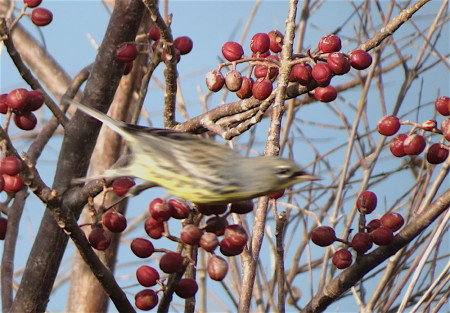 Anne Goulden, from Sarnia, Ontario, spotted and photographed a Kirtland's Warbler (Setophaga kirtlandii) on a recent birding trip to Cuba, making this the first "official" sighting of the bird on Cuba.
Anne Goulden has been an avid birder for ten years. "Birding has been a hobby—make that an obsession—since 2007," she says. Anne had just finished a 9-day birding tour in Cuba with Eagle Eye Tours and had arranged to stay on an extra three nights at their last stop, the Cayo Coco Cays located along the northern coast of Cuba. She wanted to bird at a leisurely pace on her own before returning home. The group was staying at the Iberostar Playa Pilar Hotel in Cayo Guillermo, one of the Cayo Coco Cays, known as a birding hot spot because of the Cuban and regional Caribbean endemics that live in the area.
On February 22nd Anne's tour group birded for about 1 km along the road between their hotel and the Playa Pilar Beach looking for a Bahama Mockingbird, a species found only in a few locales in Cuba, Jamaica, and in the Bahamas and Turks and Caicos Islands. "We were out for about an hour and were lucky enough to find a few Bahama Mockingbirds in addition to warblers and a few local birds," Ann commented. The bus returned to the hotel to send everyone off to the airport to return home.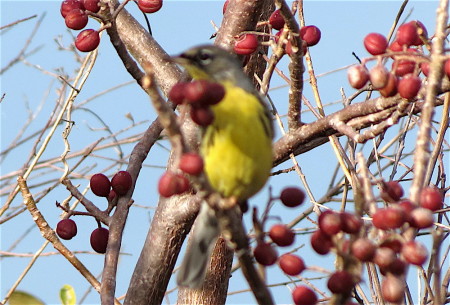 The next morning, February 23rd, Ann set out at on her own at about 7am along the same road to see what else she could find.  She spotted an unfamiliar bird in a tree with red berries about an hour into her walk. "I wish I could say I knew what it was, but I didn't," said Anne.  "I knew it was a warbler, but that was about it. I managed to get a few poor photos before it flew off."
After Anne returned home she looked through her pictures, but still couldn't place the bird. Ann was disappointed that her photos were not in sharp focus, but she knew that they were clear enough for an ID. She sent the pictures to two local birders who both suggested Kirtland's Warbler, but it wasn't even in Anne's book so she did not include it in her e-bird checklist until the bird was also positively identified as a Kirtland's by her two tour leaders, Hector Gomez de Silva and Colin Jones (the ID was also confirmed by eBird Caribbean reviewers). The individual appears to be a juvenile male (first winter).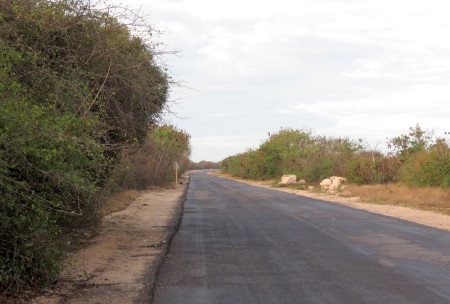 "I was very excited to have this bird confirmed as a Kirtland's Warbler," exclaimed Anne. "I live in Ontario so know about the Kirtland's and what a rare bird it is, but I never expected to see one in Cuba. I have only had a fleeting look at this bird once before, in Ontario in 2014."
One of the rarest songbirds in North America, the Kirtland's Warbler is listed as "Endangered" under the Endangered Species Act of 1973. Its current status is Near Threatened on the IUCN "Red list of Threatened Species," upgraded from Vulnerable in 2005, thanks to successful recovery efforts.
The Kirtland's Warbler winters primarily in the Bahamas Archipelago, which includes The Commonwealth of The Bahamas and the Turks and Caicos Islands.  It inhabits early successional broadleaf scrub or shrubby habitats, where it feeds on fruits, insects and spiders. Recent surveys indicate that the warblers most commonly winter in the central islands of The Bahamas including Eleuthera, Cat Island, San Salvador, and Long Island.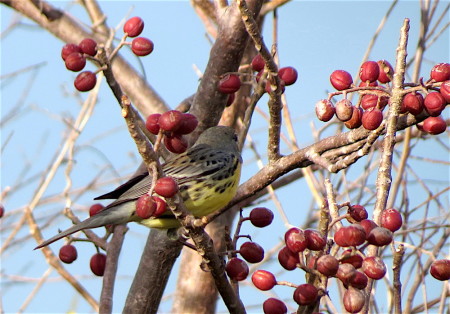 Kirtland's Warblers are known to overwinter outside of the archipelago, however, as documented by a photograph of an individual during a Christmas bird count on Bermuda in 2004, and a bird photographed in Key West, Florida this past winter. In addition, there have been sight records of wintering Kirtland's Warblers from northern Mexico, Dominican Republic, and Cuba.  Unfortunately sight records alone are insufficient for "official" documentation, which requires either a good photo or a specimen of the bird. Thus, the fact that Ms. Goulden photographed a Kirtland's Warbler (with typical field marks visible) verifies for the first time the "official" presence of the warbler in Cuba.
The habitat where the bird was found and the photo of the warbler feeding on the fruit of Gumbo Limbo or Gum Elemi (Bursera simaruba) are all typical of the habitat and behavior of the wintering Kirtland's Warblers observed in The Bahamas. In addition, the first Cuban sight record of the warbler in 2006 was also from the Cayo Coco cays. The cays located off Cuba's north coast have typical scrub vegetation including Black Torch (Erithalis fruticosa), Wild Sage (Lantana involucrata), and Snowberry (Chiococca spp.) which also produce the fruits favored by the warbler. The cays also host specialties such as the Bahama Mockingbird and Thick-billed Vireo, both of which are typical birds of the Bahamian bush.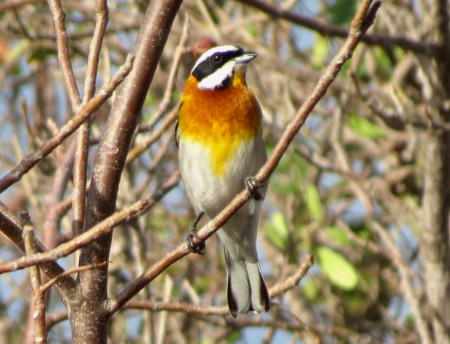 In recent years, more and more observations of the Kirtland's Warblers have been made during the winter months. Some of the increase in observations might be attributable to more birders in the field in the warbler's habitat. The more likely explanation, however, is that increased wintering grounds observations are attributable to the increase in the size of the Kirtland's Warbler population at least since the 1970s and 1980s. This increase in the population of the warblers is directly attributable to the success of the intensive recovery effort focused on the warbler's breeding grounds in Michigan.
Kirtland's Warbler breeds in early successional Jack Pine (Pinus banksiana) habitat primarily in Michigan with recent breeding now established in similar habitat in southern Ontario and Wisconsin. Habitat loss and degradation coupled with nest parasitism by Brown-headed Cowbirds were the primary factors contributing to the species decline to record low populations of the 1970s and 80s. In that period, counts of approximately 200 singing males on the breeding grounds were typical, whereas today, thanks to habitat management and cowbird control, the recent breeding ground censuses of singing males is approximately 2,350 singing males.  [The biologists are not being sexist, its just that females are difficult to detect and count in contrast to the males which are obvious as they sing on their territories in early spring; the sex ratio is assumed to be 50:50].  Thus the abundance of recent winter observations of the Kirtland's Warbler is a testament of the success of the conservation program directed at the recovery of this endangered species.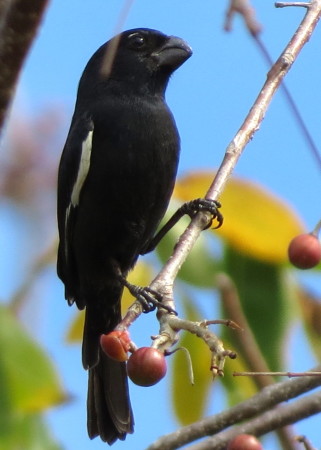 A recently published article by Dr. Nathan Cooper and his colleagues from the Smithsonian Institution suggests the possibility of some Kirtland's Warblers occurring in Cuba. The research, based on use of light-sensitive geolocators to track the warbler suggests the occurrence of Kirtland's Warblers wintering in Cuba; the photo obtained by Ms. Goulden establishes the fact. Congratulations to Ms. Goulden!
"I don't live far from Michigan and hope in the next year or two to make a trip to the Kirtland's Warbler's famed breeding grounds," said Anne. "Seeing this rare bird on its wintering grounds is, however, probably the most exciting thing that is likely to ever happen to me as a birder! I'm thrilled I was in the right place at the right time and managed to get a photo of the bird. It's certainly rewarding for ordinary citizens like myself to contribute to science through our birding activities and use of eBird Caribbean!"
By Lisa Sorenson and Joe Wunderle
Anne Goulden's checklist from 23 February, 2017 with the Kirtland's Warbler can be viewed at this link. 
Andrew Dobson's checklist from 19 December, 2004 with the Kirtlands Warbler can be viewed at this link.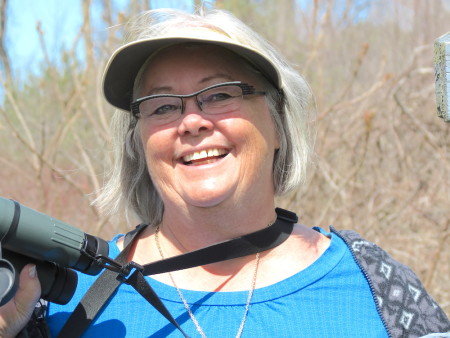 Additional reading:
Isada et al. 2006. First Sight Record of a Kirtland's Warbler in Cuba (North American Birds).
Cooper, N.W., M.T. Hall worth, and P.P. Marra. 2017. Light-level geolocation reveals wintering distribution, migration routes, and primary stopover locations of an endangered long-distance migratory songbird. Journal of Avian Biology 48: 209-219.
Heritage Plants: Native Trees and Plants for Birds and People in the Caribbean