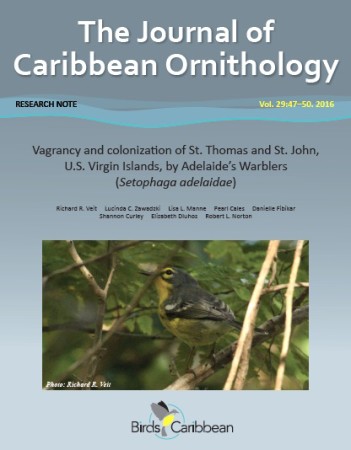 With nine research articles, two book reviews, and an ornithological literature review, we are excited to announce the completion of Journal of Caribbean Ornithology's Volume 29. Collectively the publications highlight valuable work spanning the entire arc of the Caribbean island chain, from Cuba to northern South America. The quality, quantity, and distribution of research represented in Volume 29 is testament to the JCO's continued mission to build and grow a community of ornithologists around the advancement of scientific knowledge of all the unique avifauna of these island habitats.
These accomplishments would of course not be possible without the commendable teamwork that happens between researchers, reviewers, editors, and volunteers in all corners. Thank you so much for bringing your passion to the table and helping produce such a valuable resource to the field of ornithology.
Volume 29 wraps up with two complementary articles on the Adelaide's Warblers: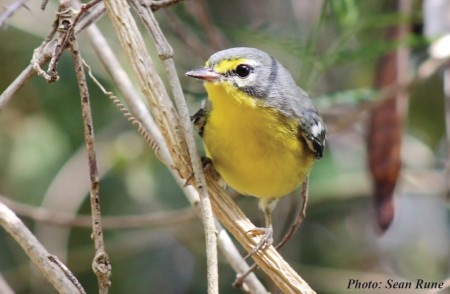 1. "First observations of Adelaide's Warblers (Setophaga adelaidae) outside of Puerto Rico, in the U.S.Virgin Islands" is an article by Sean M. Rune and LeAnn M. Conlon that documents the first sightings of this species of warbler outside its endemic range of Puerto Rico (and its island-munici palities of Vieques and Culebra). From one to four individuals were recorded during each of ten observation periods spanning from 24 March to 17 December 2012 on the island of St. Thomas. One observation of one individual on 6 January2013 occurred on the island of St. John. Seeing as Adelaide's Warblers are known to breed during the late spring and early summer months, these observations may indicate the initiation of range expansion by the species from Puerto Rico to the U.S. Virgin Islands to the east.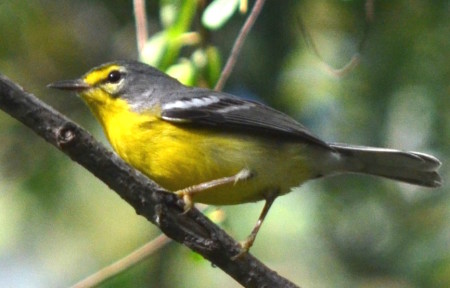 2. Further evidence of range expansion by Adelaide's Warblers follows in the article "Vagrancy and colonization of St. Thomas and St. John, U.S. Virgin Islands, by Adelaide's Warblers (Setophaga adelaidae)" by Richard R. Veit, Lucinda C. Zawadzki, Lisa L. Manne, Pearl Cales, Danielle Fibikar, Shannon Curley, Elizabeth Dluhos, and Robert L. Norton. The authors observed five Adelaide's Warblers on St. John during January of 2015 and eight individuals in the same area one year later. Given that these vagrants arrived against prevailing easterly trade winds and were observed in the same area from 2012-2016, Veit et al. hypothesize that in current time we are witnessing the eastward colonization of new islands by Adelaide's Warblers.
A thorough overview of Adelaide's Warblers highlighting these newly published articles has been written by Jason A. Crotty and can be found in a recent article of the magazine BirdWatching.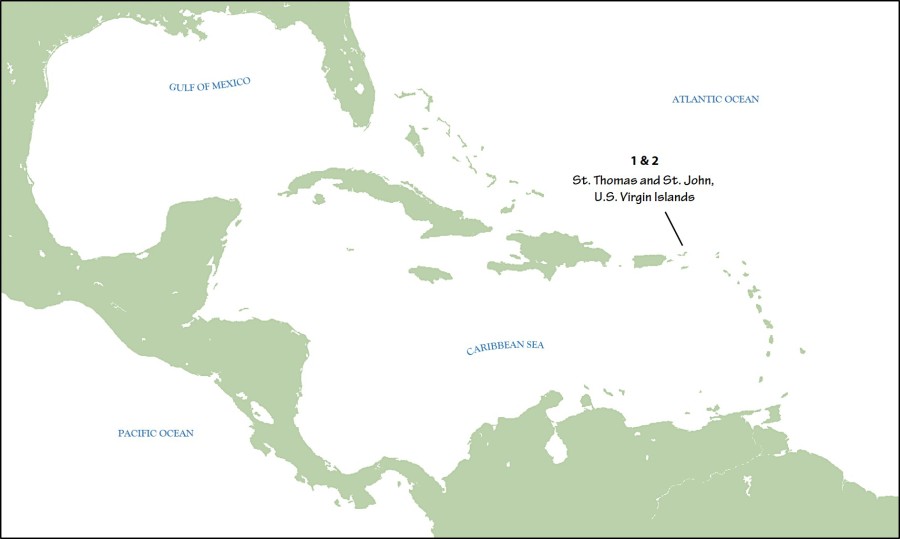 The Archives Have Grown – We're excited to announce that we've been able to put some serious time into uploading and making available older volumes of the journal. The JCO Archives are now completely catalogued back to the year 2005. Our goal is to continue working our way back in time, ultimately providing easy (and free!) online access to every article of every publication back to the journal's beginning – Volume 1 in 1988. We encourage you to take some time looking around the archives to remember and discover all the great work that has been contributed over the years. We will continue to make announcements as more volumes are made available.
What's Coming Up – The 21st International Meeting of BirdsCaribbean set to take place in Cuba this July promises to be an unforgettable event. Detailed information about the meeting can be found here, the meeting website will have a lot of updates in the coming weeks. Regular attendees of BirdsCaribbean conferences and seasoned Caribbean ornithologists should take advantage of this attractive venue to consider reaching out to young, burgeoning researchers across the islands that could greatly benefit from attending. BirdsCaribbean is making an active push to integrate new members into our community, and the best way to do so is by word of mouth from all of our members. Everyone planning on attending the conference should come ready to have an excellent time, and don't forget to budget some extra time in Cuba if your schedule allows! Volume 30 of the JCO is already underway with a lot of great manuscripts in the pipeline. We're also looking forward to the release of a Special Issue on Caribbean Forest Endemics that promises to be around a dozen articles in length. Rumor has it that we'll be seeing some great articles on everything from Elfin-woods Warblers to Golden Swallows to Giant Kingbirds. Stay tuned!
By Justin Proctor, Caribbean Ornithologist; Freelance Writer; Loving Husband. Justin is part of our JCO Editorial and Production team and a frequent contributor to our blog.