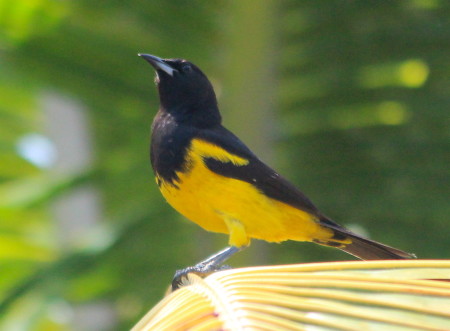 The Bahama Oriole (Icterus northropi) is the most endangered bird in the Bahamas. It is now restricted just to the Andros Island complex. There may be as few as several hundred individuals left, making it also one of the most endangered endemic birds in the entire Caribbean. Of greatest concern is that the oriole was driven from the Abaco Islands in the 1990s for unknown reasons. It is one thing to have a known killer lurking, but in the case of the oriole, what caused it to go extinct on Abaco is unknown. We hope to help preserve this charismatic and colorful species on Andros, which surprisingly is not that difficult to observe on certain parts of the island. Like many tropical birds, both the females and the males have elaborate coloration – both sexes are jet black with bright yellow patches over much of the body.
We began the Bahama Oriole Project last year with the overall goal of preventing the extinction of this beautiful oriole. The project is a collaboration between the University of Maryland, Baltimore County (UMBC) and the Bahamas National Trust (BNT). We have conducted several field trips to begin to determine how many orioles are left, and to learn what the major threats are to this species. We also need to learn much more about where the oriole spends its time throughout the year, including what it eats, how widely it ranges, and what its preferred habitats are for feeding and nesting. The last published estimates suggest as few as 300 individuals may remain. However, in May 2016 our field team, including students from the Bahamas and from UMBC, discovered previously unknown breeding populations deep in Andros' vast pine forests. For several reasons, we are guardedly optimistic that good science and dedicated conservation measures can save this species from extinction.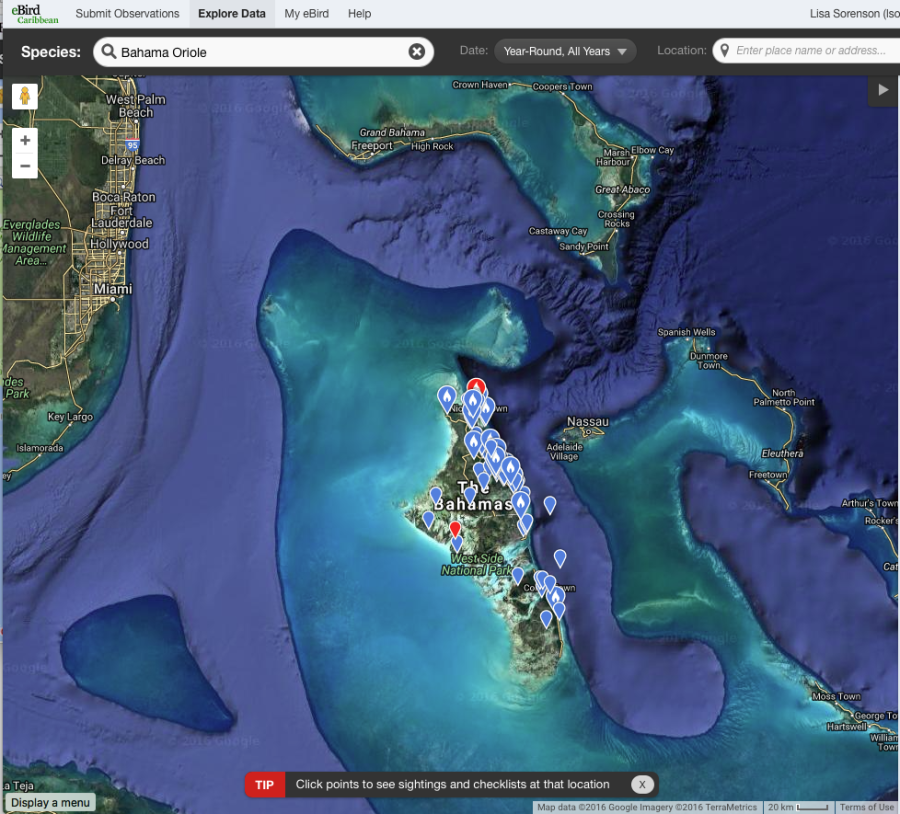 Our first need is to recruit a PhD student to lead this research effort for the next five years. The student would be advised by Kevin Omland in the Biology Department at UMBC, in collaboration with researchers in the Geography Department at UMBC (Collin Studds and Matt Fagan) and researchers at the Smithsonian Conservation Biology Institute (Scott Sillett). The student could choose to focus on any one or two aspects of the project including: 1) population size estimation and habitat usage, 2) breeding ecology including cowbird parasitism and predation by introduced predators, 3) remote sensing and details of habitat usage in breeding and non-breeding season (in relation to fire and climate change), and 4) conservation genetics of populations on three different parts of Andros. Please contact Kevin Omland (omland@umbc.edu) and send a CV and short paragraph on research interests. The application target date for full consideration by the UMBC Biology Department is Jan 1, 2017. 
We are grateful for the support and advice given to the project by BirdsCaribbean, and we plan to give updates on the project through blog posts and newsletter items. Meanwhile, we invite you to come to Andros to see all the great migratory and endemic birds there! Be sure to add to our knowledge by posting all sightings of Bahama Orioles to eBird Caribbean and to the "Bahama Oriole Project" on Facebook: https://www.facebook.com/BahamaOrioleProject/
Finally, the project needs ongoing assistance with everything from housing to transportation on Andros, so please consider either monetary or in-kind donations to the project through BirdsCaribbean. Thank you!
By Kevin Omland, Ph.D., Professor, Biology Dept., University of Maryland, Baltimore County