As the holiday season gets underway, we'd like to bring your attention to the most recent batch of articles published in the Journal of Caribbean Ornithology. All three studies stem from islands within the Greater Antilles, and all are valuable contributions to our growing knowledge of Caribbean birds. As all of the JCO's publications are free and open-access, please don't hesitate to pass them around, discuss them with colleagues, and reach out to the authors themselves if you are interested in learning more about their research.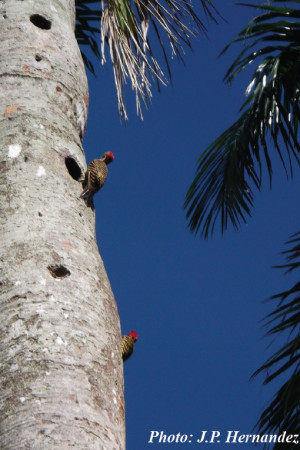 1. We start off in the Espaillat Province of the Dominican Republic with an article entitled, Avian biodiversity in a pasture-dominated ecosystem, by Jason P. Hernandez. The work focused on gaining a better understanding of bird diversity in altered ecosystems; in this case, agricultural lands. Additionally, Jason collected data on the presence/absence of the Royal Palm (a tree species known to serve as important nesting habitat for several bird species in Hispaniola) as well as seedling recruitment success in pastureland that is heavily trafficked by cattle.
Thirty-three species – 32 of which are residents – were observed at the study site. Fourteen colonies of the endemic Hispaniolan Woodpecker were observed, all utilizing either dead or living Royal Palms, and 76% of the recorded bird species were thought to be tree dependent in some way. Royal Palm seedlings were considerably more abundant in riparian corridors compared to adjacent open pasture land, though both areas contained similar percentages of cattle paths. Though Royal Palms are known to regularly re-establish themselves in disturbed habitats, Jason hypothesizes that the hotter, drier conditions experienced in open pastures compared to cooler, more shaded riparian areas may explain the differences in recruitment. Jason suggests that beyond the good practice of leaving already-established trees throughout agricultural land, seedling recruitment must be considered to ensure future habitat. The replacement of conventional open pastures with sylvopastoral systems may become essential to supporting avian diversity in the presence of continued grazing practices.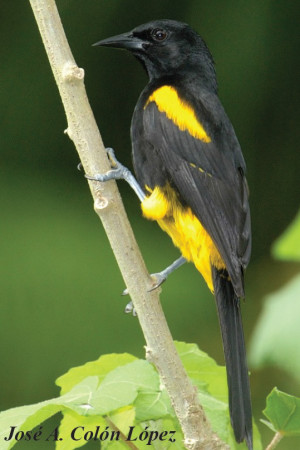 2. Moving eastward from the island of Hispaniola, we find ourselves in Puerto Rico's Maricao State Forest. Documentation of female song in a newly recognized species, the Puerto Rican Oriole (Icterus portoricensis) is written by authors Susanna K. Campbell, Alcides L. Morales-Perez, John F. Malloy, Oliver C. Muellerklein, Jin A. Kim, Karan J. Odom, and Kevin E. Omland. Campbell et al. set out to determine if female Puerto Rican Orioles sing, how that compares to their male counterparts, and finally how that information fits into the role of female song across the Caribbean oriole clade. The authors point out that female song is especially common in the tropics, whereas the majority of research on bird vocalizations has emanated from temperate regions, a geographic bias that only recently has gained more attention.
Results from the study were positive in confirming the first documented case – and in general – female song in the Puerto Rican Oriole, that males and females sing similar songs, and that when this is incorporated into the phylogenetic reconstruction of the Caribbean oriole clade, there is evidence that this clade likely had a common ancestor that had female song. Furthermore, the Puerto Rican Oriole is a tropic endemic displaying female song, providing further support that female song is correlated with tropical residence. Interestingly, female song was lost in one of the outgroup species of the clade, the Orchard Oriole, when the species moved to temperate residence and breeding. Campbell et al. theorize that female song may be more prevalent in the tropics because longer breeding seasons result in year-round territory holding, increasing the likelihood of female-female competition and the need for joint territory defense.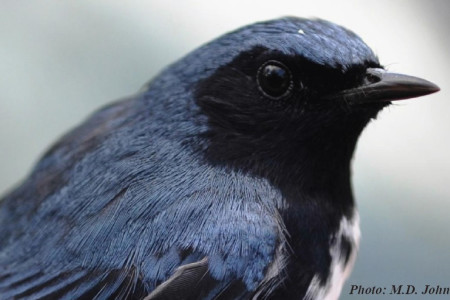 3. For the third article, we leap-frog back over Hispaniola to the island of Jamaica, where Aaron B. Spidal and Matthew D. Johnson bring us their work on Sexual habitat segregation in migrant warblers along a shade gradient of Jamaican coffee farms. Spidal and Johnson point out that in the face of ongoing declines in many species of Neotropical migratory birds, attention towards habitat modifications in tropical agricultural landscapes is important. In particular, the authors focus on coffee farms and the degree to which eight different farms across Jamaica vary in percent shade cover over their respective stands of coffee bushes.
Birds and canopy cover were sampled at each site during the winter months of 2010-2011 and 2011-2012. 298 mist-net captures produced 14 species of migratory warblers, the most common being Black-throated Blue Warbler, American Redstart, and Prairie Warbler. Canopy cover ranged from 0 to 89% with a mean of 56.7%. Spidal and Johnson found that across all species, there was a significant correlation between proportion male and percent canopy cover, with positive correlations occurring in each of the three common warbler species. This suggests that segregation between sexes may be occurring within a single habitat along a gradient of habitat quality, which may be explained by superior food availability available to insectivorous warblers existing higher in the canopy compared with that found in the coffee bushes below. The authors intend this work to set the stage for additional studies testing for whether the degree of sex class segregation of migrant warblers can be indicative of habitat quality on coffee farms.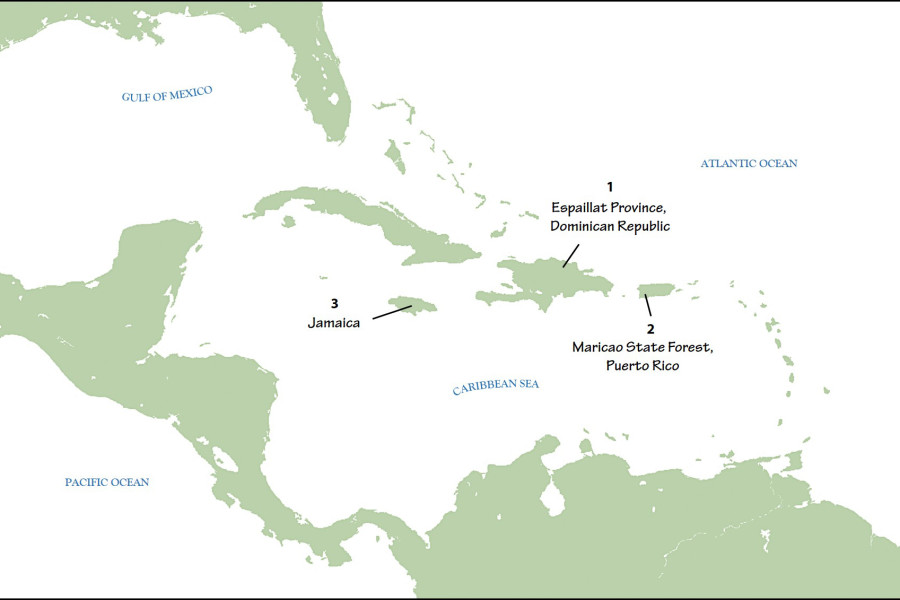 We want to conclude by taking the opportunity to thank the greater Caribbean ornithological community for giving the Journal of Caribbean Ornithology another great year of contributions. To all of the researchers, reviewers, and other contributors – thank you for all of the hard work you do. Your time, energy, input, and feedback are what collectively build the JCO into a stronger peer-reviewed publication.
By Justin Proctor; member of the JCO Editorial and Production team and regular contributor to the BirdsCaribbean blog.