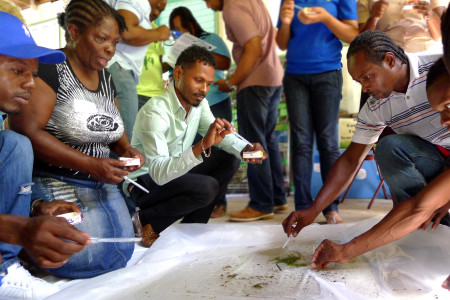 Protecting Jamaica's wetlands through a combination of artistic expression, role playing scenarios and traditional science. 
"Tell it your school,
Tell it to your church,
Tell it to your community:
We and the wetlands must live in unity!"
These are the words written and creatively performed by Phillip, an employee of the Government of Jamaica, on the first day of the Wetlands Education Training Workshop in Salt River, Jamaica. The participatory song described the wonders of Jamaican mangroves from their biodiversity to the ecosystem services they provide and also highlighted their current threats such as clearing and pollution.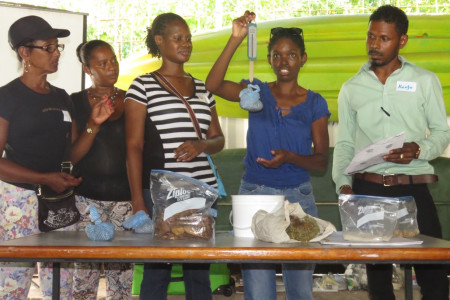 Artistic expression, such as Phillip's song, is just one of the many approaches to wetland education that workshop attendees learned about and participated in during the two-day training event. The goal of this ongoing regional workshop effort is to train enthusiastic community leaders about birds and wetlands and provide them with the skills and materials to teach others in their community. The 29 attendees were varied in their backgrounds, hailing from primary and secondary schools, the Urban Development Corporation, the Forestry Department, NGOs and the local Salt River community.  The workshop was held over November 8th and 9th, the best time of year to see and learn about resident and migratory bird species.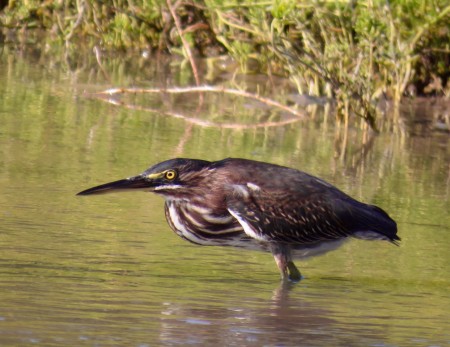 Each participant received a copy of Wondrous West Indian Wetlands: Teachers' Resource Book, a teacher's guide packed with foundational information and creative activities to engage students of all levels in wetland conservation and ecology. The book provided the backbone of the first day, which focused on content and classroom activities. The program was led by Lisa Sorenson (Executive Director, BirdsCaribbean) and Michele Kading (Wetlands Educator, BirdsCaribbean) and tailored to mirror the book chapters, with many break-out sessions of small group activities. In addition to Phillip's song, workshop participants created games for learning wetland functions, conducted simple experiments about water storage and fresh-salt water interactions, and participated in stakeholder role-playing scenarios. One of the most exciting activities was the creation of an indoor classroom pond, complete with aquatic invertebrates and all the tools necessary for identification.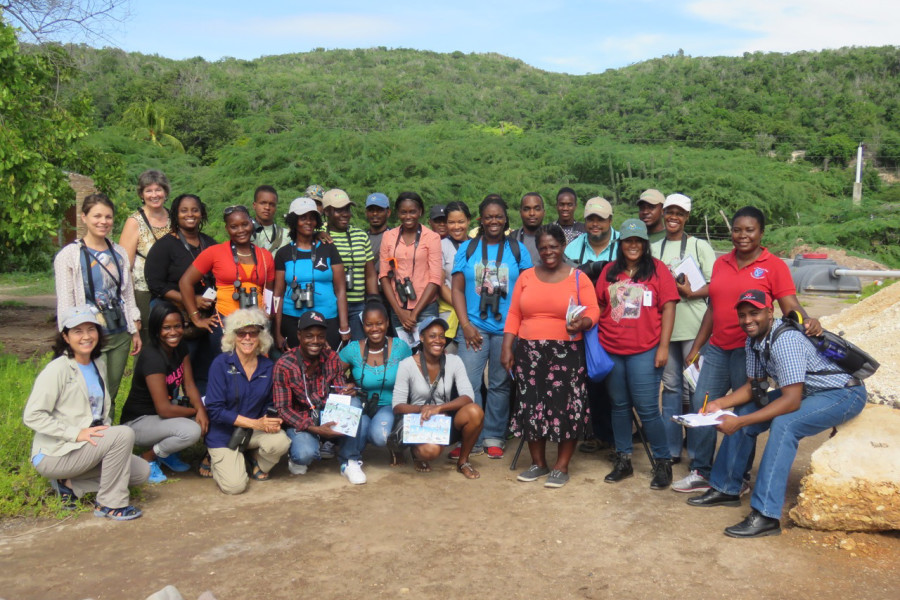 The training was hosted by the Caribbean Coastal Area Management Foundation (C-CAM). Established in 1997, C-CAM's mission is to promote coastal conservation in Jamaica.  The organization is situated within the beautiful and diverse Portland Bight Protected Area (PBPA), a large region located southeast of Kingston comprised of mixed land use, dry limestone forests and wetlands. The PBPA, an Important Bird Area, is home to the largest mangrove forest in Jamaica, and includes Goat Island, a recent conservation triumph.
C-CAM is anxiously awaiting the debut of their next success story: The Discovery Center, a modern wetland interpretation facility that will cater to the public, tourists and school groups. The main building is surrounded by tidal mud flats and mangroves with winding walking paths, boardwalks and an observation blind.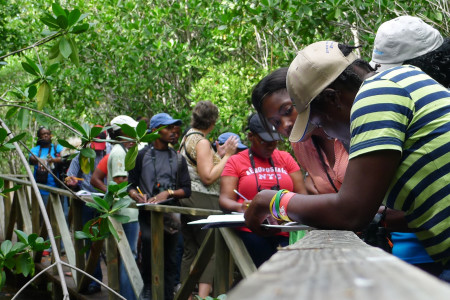 Of course, The Discovery Center was the perfect place to start the second day of the workshop: field trips to local wetlands!  During the morning visit, the mangrove area was bustling with nesting Cattle Egrets, and noisy Northern Waterthrushes and Green Herons. In drier habitat on the property, everyone had the delightful opportunity to view a pair of Green-rumped Parrotlets feeding on cacti through the spotting scope.
Participants used their new Caribbean Mangrove identification guides, illustrated Caribbean wetland, sea and land bird identification cards, and The Photographic Guide to the Birds of Jamaica (generously donated by Ann Haynes- Sutton) to navigate and experience their familiar surroundings in a new way.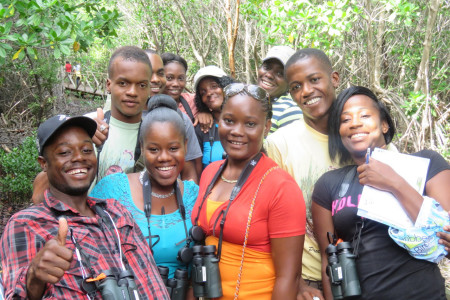 In the tidal flats of Portland Cottage, the group was able to observe and identify Black-necked Stilts, Little Blue Herons, Tricolored Herons, and Greater Yellowlegs. The most challenging bird of the day- a juvenile white morph Reddish Egret- was also the most fun to identify by slowing working through the steps of large wader identification (plumage, bill color, leg color, feet color).  In addition to bird watching, the field sites also provided other learning opportunities such as plant identification through transects and plots, evaluation of ecosystem services, and understanding threats to wetlands.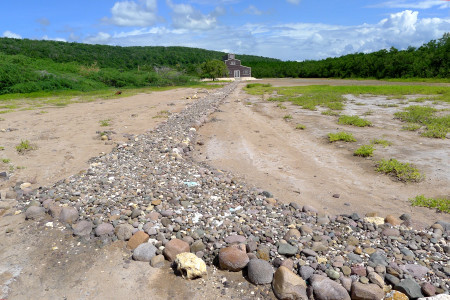 Each of the activities demonstrated during the classroom and field trip portions of the workshop are described in the Teachers' Resource Book and the materials for each activity are available in a complete workshop kit donated to C-CAM. When the Discovery Center is open for business, leaders of school and other youth groups will be able to access the materials to facilitate their field trip lessons.  Whether it is through bird watching, games, science experiments or artistic expression, the varied educational approaches shared through this workshop will help students and adults better understand, appreciate and advocate for their local natural wetland ecosystems.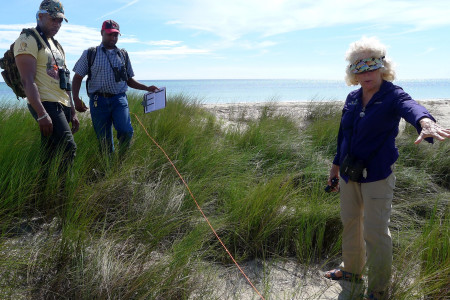 We find birds, we find crabs,
We find lizards and frogs.
Oh mangrove, oh mangrove,
You're under pressure. 
You're a Jamaican treasure.
They are beautiful and marvelous.
They are a part of us.
We thank the US Fish and Wildlife Service, US Forest Service, Oak Hammock Marsh Interpretive Centre, Vortex Optics, and C-CAM for funding and support for this Wetlands Education Training Workshop, an activity of the West Indian Whistling-Duck and Wetlands Conservation Project.
By Jessica Rozek, graduate student, Tufts University. Jessica is researching Caribbean wetland conservation issues for her Ph.D. We were grateful to have her assistance with this workshop!