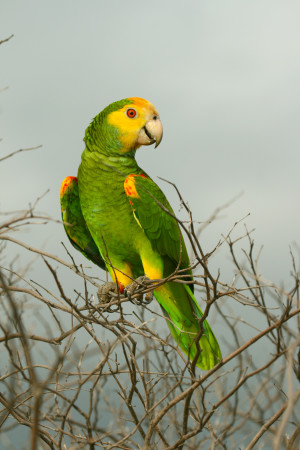 Many of Bonaire's visitors already have a keen interest in nature—as evidenced by the tens of thousands of divers and snorkelers that arrive to the island each and every year, with fish ID lists in hand. What many visitors don't realize is that the island boasts a topside fauna that is just as diverse and fascinating as the underwater life.
From the lovable Lora to the charming Chuchubi, Bonaire offers a plethora of beautiful birds for birders and nature enthusiasts to enjoy. Yet few people partake in this wonderful activity, much less travel to Bonaire specifically to bird. The hope is that this will now change, thanks to a recent training of Bonaire's tourism sector in how to be an interpretive bird guide and show visitors the beautiful bird life of the island.
Globally, the tourism market for wildlife watching and wildlife photography is growing, and bird tourism is a significant part of this. Another growing segment is that of the independent traveler; individuals that prefer to go "off the beaten path" and seek out authentic experiences. The Caribbean Birding Trail (CBT) is an initiative that seeks to attract these markets to Bonaire and the Caribbean as a whole and connect these visitors with the cultural and natural resources of their island. Integral to this is having well-trained local naturalist guides who can identify and interpret the birds and their habitats for local and foreign visitors.
From 26 to 30 September, 27 representatives from Bonaire, Curacao, St. Maarten and St. Eustatius attended BirdsCaribbean's Interpretive Guide Training Workshop in Bonaire. Participants consisted of mostly of tour guides, but park staff, nature educators, biologists, and even Bonaire's famous salt industry also attended the training. Their combined linguistic abilities alone were astounding: Papiamentu, English, Dutch, Spanish, German and Portuguese, which led to much amusement (and some confusion) about the common names of certain birds.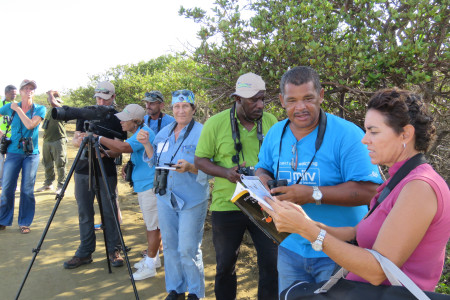 The intensive five-day workshop offered skills in identifying birds, how to use binoculars and spotting scopes, avian ecology, and guiding and interpretation techniques. The training also included daily field visits to some of Bonaire's best birding sites, such as Lac Bai, Gotomeer, Dos Pos, Salina de Vlijt and the LVV/water water treatment ponds. Interactive presentations and demonstrations were given by staff of BirdsCaribbean, STINAPA, and Echo. Certified interpretive trainers from the National Association of Interpretation (NAI), Venicio (Beny) Wilson and Rick Morales, who work as guides in Panama, wowed the participants with in-depth sessions on the birding market, communication skills, and the principles of environmental interpretation.
Despite the impending threat of Hurricane Matthew, the workshop participants' enthusiasm could not be dampened and they showed up, rain or shine. For some it was their first time seeing Black-bellied Whistling-Ducks, White-cheeked Pintails, Semipalmated Plovers, Black-necked Stilts, Willets, Spotted Sandpipers, Fork-tailed Flycatchers, and Caribbean Elaenias, and even the trainers were excited about seeing Bonaire's national bird, the American Flamingo. Trainer Beny Wilson commented, "Throughout the week, I was constantly amazed at how "tame" Bonaire's birds are. By that I mean they are generally unconcerned about close proximity to humans and simply go about their daily routines. It was fabulous to be so close to the action and especially to see flamingos just 30 feet away!"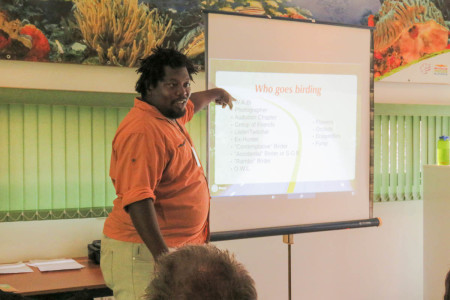 For those students that had never before seen a bird through a pair of binoculars or telescope, this workshop was an enlightening experience. The art of 'digiscoping' was popular among many, especially those who don't have a fancy camera but still want to take and share great bird photos. Using this technique, visitors can easily take fantastic bird images using their own smart phone and their guide's scope.
Others were keen to sign up to eBird Caribbean, an online checklist program, and start entering their sightings. This can be a useful tool for any visitors who wish to add birding to their Bonaire vacation itineraries, as the web site shows which birds can be seen on the island and their general locations. It's a fabulous way to find out if a "life bird" you wish to see occurs on Bonaire.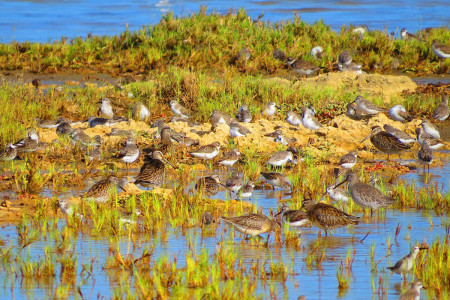 For everyone, learning the skills to engage visitors about Bonaire's birds and their environment was invaluable. "I learned how our great bird diversity can be harnessed to be an adjunct to our visitors' love of nature," commented one participant from Bonaire.  Binkie van Es, a guide from St. Maarten stated, "This was a very inspirational workshop for me that showed me how to develop an interpretive tour. This involves giving meaning to what we show our clients during a trip and not just mere facts, injecting a purpose and a part of yourself to leave the visitor with an everlasting impression of their day." A connection to conservation was emphasized throughout the workshop and this was reflected in another guide's comment: "I am interested now to continue to expand my knowledge as well as get involved in conservation of our island's natural areas."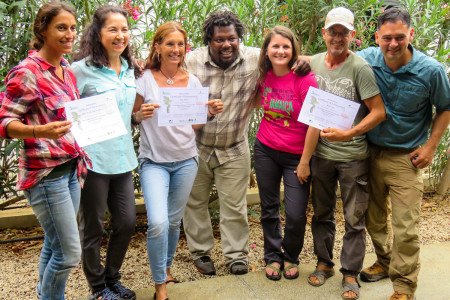 Sam Willams, board member of Echo, the non-profit foundation that led the workshop organization stated, "Developing bird-related tourism on Bonaire has been a dream I've shared with others for many years. I am really proud and honored that Echo was able to play a part in bringing the Caribbean Birding Trail to the island. Thanks so much to Lauren Schmaltz for her efforts in making it a reality, as well as the great facilitators, and for the partnerships with Lisa Sorenson from BirdsCaribbean, Kalli De Meyer from the Dutch Caribbean Nature Alliance, and STINAPA Bonaire. And of course all the enthusiastic guides!"
It is now up to the tour operators to promote birding opportunities on their respective islands and practice the skills learned in the workshop in order to become professional CBT guides. It seems that the participants were indeed inspired to continue to hone their skills. Guide Cyrill Kooistra from Curacao, commented, "These birding trainers were amazing! There I was wondering 'how do they do that?' In class you learn about these birds, but after two days the trainers really lit a spark in me; the kind of spark that made me afraid to become like them. They glow when they spot something, and yes, I even started to become like these enthusiastic birdspotters. Amazingly, at the end of the week, I got 7 of 11 correct in the birding quiz, compared with just 2 on the first day."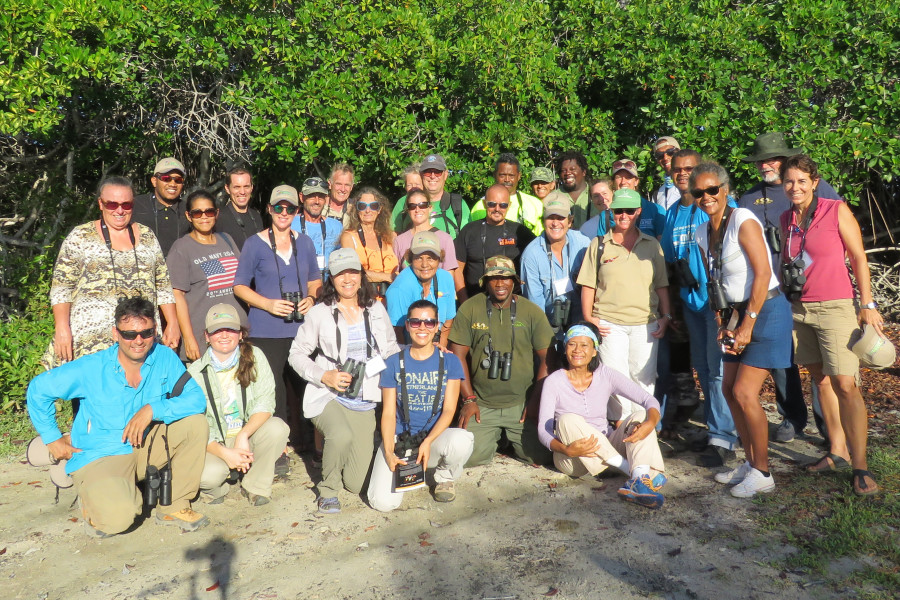 As well as the knowledge and skills gained, all participants also received a pair of Vortex binoculars, a BirdsCaribbean buff and hat, NAI Workbook, copies of field guides "Birds of the West Indies" and "Birds of Aruba, Bonaire and Curacao", mangrove identification guides, and bird ID cards for Bonaire and Curacao.
We look forward to continuing to nurture the guides as they develop their bird guiding skills. Soon, we fully expect many Bonaire visitors to arrive with their fish wish list in one hand and their bird wish list in the other!
The CBT Interpretive Guide Training was made possible through the generous support of our sponsors and local partners. These include: Echo, Dutch Caribbean Nature Alliance, Vogelbescherming Nederland, U.S. Forest Service International Programs, STINAPA Bonaire, Cargill, Kooyman, Wild Conscience, Vortex Optics, BONHATA (Bonaire Hotels & Tourism Association), Rento Fun Tours, Bonaire Rent-a-car, and Boutique Hotel Sunrisa. Thanks to Lisa Sorenson, Hannah Madden and Susan Davis for contributing to this article about the Bonaire CBT Guide Training!