Insightful and humorous, Justin Proctor offers some convincing reasons to look for the Caribbean's 'Big Five' aerial acrobats and tips for how to identify them.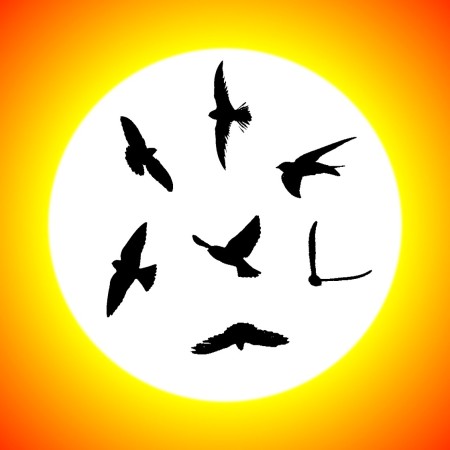 Are you tired of really crisp, up-close views of beautiful Caribbean birds? Are you repulsed at the idea of having an extended period of time to view a bird, jot down detailed notes about its breath-taking plumage, and really connect with the moment? Well, I knew it; and I'm happy to say that here at Proctor & Proctor Inc., we can offer you something much more challenging! Let's start by having a long, long look at the following Rorschach test (pictured right). And if at any time it becomes painful to keep your eyes on the image, just keep looking…
Alright, let's reflect. Did you see a hamster? If you did, I'm gonna ask you to just kindly walk away now. If rather you saw some intriguing silhouettes of our feathered friends in front of our beloved Yellow Star, you're sitting pretty. And if you took one quick glance and were able to immediately identify all the different species present, I think we can probably get you a movie deal.
Welcome to Aerial Insectivore 101. Class materials you'll want to bring along include a good pair of Ray-bans, an imagination, and just a little bit of patience. Now let's see if we can get you an 'A'!
The "aerial insectivores" of the avian world are birds that predominantly forage in flight on airborne insects, and are largely represented by five families: potoos (Nyctibiidae), nightjars (Caprimulgidae), swifts (Apodidae), flycatchers (Tyrannidae), and swallows (Hirundinidae). However, even though they belong to the same dietary guild, each one of these families has a unique set of life history traits, which results in sometimes very different types of behavior. The swallows and swifts, in particular, can be a formidable challenge. Their flight is often fast and irregular, and the glimpse that an observer is afforded is usually a quick one, coming at an inopportune time, and more likely than not, set against an unforgiving background (the sun!). That being said, there are ways to offset some of these obstacles, with the most obvious one (to me) involving starting off with some of the easier to see species and working your way up (literally).  Bird watchers, therefore, must implement different strategies for viewing — and ultimately identifying — the array of species in this group.
Within the Greater Antilles, whether you're heading to the forests of Puerto Rico, the mountains of Hispaniola, the streets of Havana, or the beaches of Jamaica, there are several species of aerial insectivores that you have an excellent chance of getting to know. And whether you're an expert birdwatcher capable of identifying Empidonax flycatchers from a hundred meters out, or you're fairly new to the countless ID challenges that the avian world offers, the five species I'm going to highlight in this article are capable of entertaining (and surprising!) birders of all skill levels. I've chosen these species in particular because you can get fairly close to them in their natural habitats (well, you might think that White-collared Swifts are a stretch in that case, but I'll do my best to convince you otherwise later on), which ultimately means that you'll have an easier time relating to them.
With some of the species, I've included photo collages composed of shots taken by me "on the fly", so to speak, so that you can get a more realistic idea of what you'll probably be seeing through your pair of binoculars.
A pair of Cave Swallows looking out from their mud nest erected in an alcove of a limestone arch overhanging Jamaica's northern coastline. (photo by Justin Proctor)

Cave Swallow (Petrochelidon fulva)
These little guys are a great species to start with because they are known to all of the Greater Antilles islands. One of the best contexts to find Cave Swallows in would be nearby to one of their communal roosts / nesting sites. Terrestrially, look around cave entrances or pocket-like formations in the sides of rocky cliffs. Coastally, look for limestone formations along the beach or just offshore. If they are there, you won't miss them. Their nests are primarily made up of a mix of mud and plant fibers that have been attached to a vertical wall. If you can manage to get close, you might be lucky enough to see a pair of Cave Swallows sitting still in a nest giving you that famous 1000-yard stare.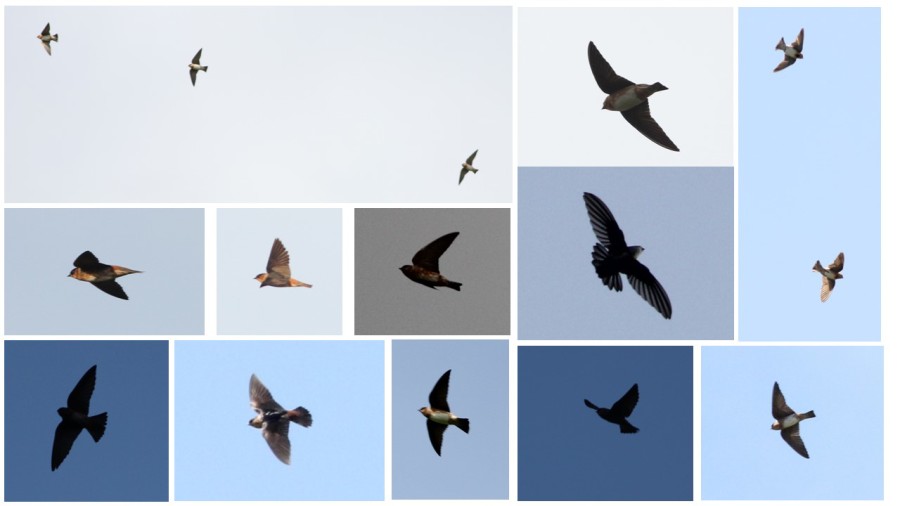 However, let me be brutally honest for a second – Cave Swallows often have a way of mixing in with other foraging swallow and swift species, and simply put, these mixed-species flocks can be a nightmare of a time to sort your way through. And yes, when mixed in with Barn Swallows, Tree Swallows, and just as often a handful of swifts, Cave Swallows can become easily "lost in the crowd". However, with a little practice, the subtle differences in plumage, size, and flight patterns will help you tease the birds apart. Cave Swallows are really stocky looking with short, square tails.
Caribbean Martin (Progne dominicensis) & Cuban Martin (Progne cryptoleuca)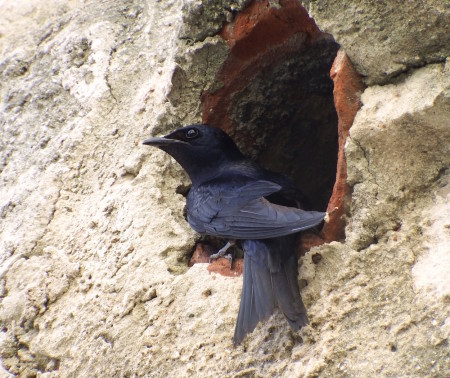 This is a two-for-one special. If you're going to be island-hopping, then I can't include one without the other. Your search target is going to be similar for both. Caribbean Martins can be found from the Cayman Islands eastwards to the Lesser Antilles, ultimately down to Tobago. They are not found in Cuba, yet their conspecific, the Cuban Martin, is only found there. Both martins are hefty birds; to give you an idea they weigh roughly twice that of a Cave Swallow. They are incredibly adept cavity nesters, mastering the use of crevices in high mountain trees, urban buildings, coastal lighthouses, limestone cliffs, and even the masts of moving sailboats. You may already have some knowledge of their more widely spread congener, the Purple Martin (Progne subis), the mental image of which would be helpful as you seek out their Cuban and Caribbean counterparts. To see both Caribbean Martins and Cave Swallows nesting side by side, head to Cabo Rojo, Dominican Republic. For Cuban Martins, check out the beautiful Convento San Francisco de Asís in Havana, Cuba, where they are nesting in large numbers in the church walls.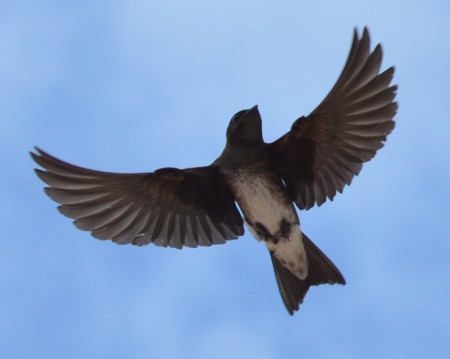 For photos of Caribbean Martins, and to become acquainted with an ongoing effort tracking their numbers and distribution, check out the Caribbean Martin Survey information page.
Antillean Palm-Swift (Tachornis phoenicobia)
This is going to be the most noticeable and easy to identify swift out there. However, that doesn't mean you're going to get a really good look at one right away. They are fast, and they are small. Luckily they are gregarious and colonial nesters, which means that you will usually come across them in large numbers as they forage or move into and out of their nests – which, amazingly, are a blend of saliva, plant fibers, and feathers attached to the undersides of dead, hanging palm fronds. Look for Antillean Palm-Swifts nesting in large, isolated palms either in the country-side or in urban parks. Or, if you're a fan of the beach, keep a watchful eye on any nearby "tiki-huts" that have roofs made of palm fronds. You'll find it mesmerizing to watch the little swifts fly seamlessly up into a mat-like cluster of palm fronds at what seems to be an impossible speed. The strong contrast of their dark grey / black bodies with their white rumps will be an immediate indication of who you are looking at.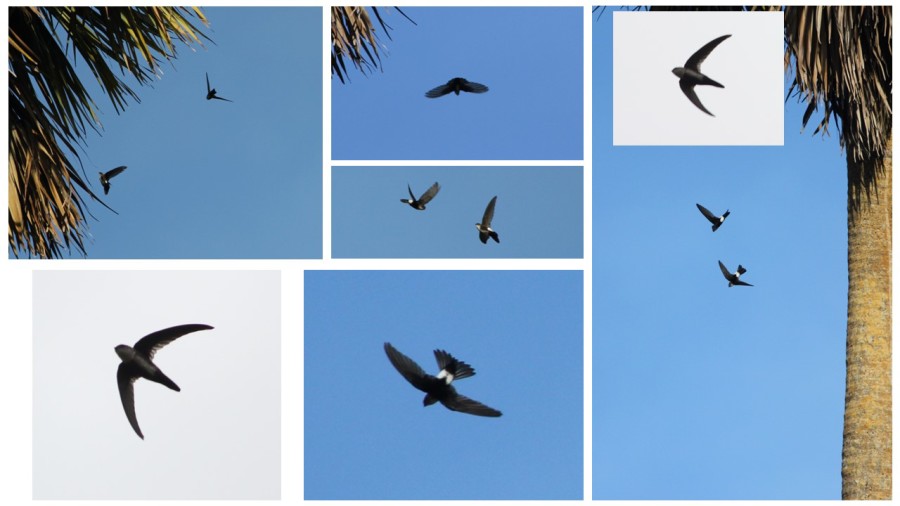 4. I've introduced you to the smallest swift you'll find in the Greater Antilles, so it seems appropriate to bring the largest swift of the region into the equation. An all-around phenomenal bird, the White-collared Swift doesn't get the attention it deserves, and I think I know why. Wetmore and Swales (1931) summarize the problem perfectly:
"…through its great speed in flight so annihilates distance that flocks may appear temporarily almost anywhere."
I can attest to that. They are damn fast. Most birdwatchers, in fact, struggle to describe their behaviors from anything more than observations lasting a handful of seconds. The reason is that White-collared Swifts are true residents of what we call the "seventh habitat"- the skies above us – and their movements through that habitat are extremely difficult to track by conventional methods. Normally, in that case, we would default to observing them at and around their nests. Yet these swifts nest on vertical cliffs alongside or behind waterfalls, usually located in the most remote, rugged terrain available. It is no wonder then why following them to a nesting site and subsequently studying them there are often daunting tasks.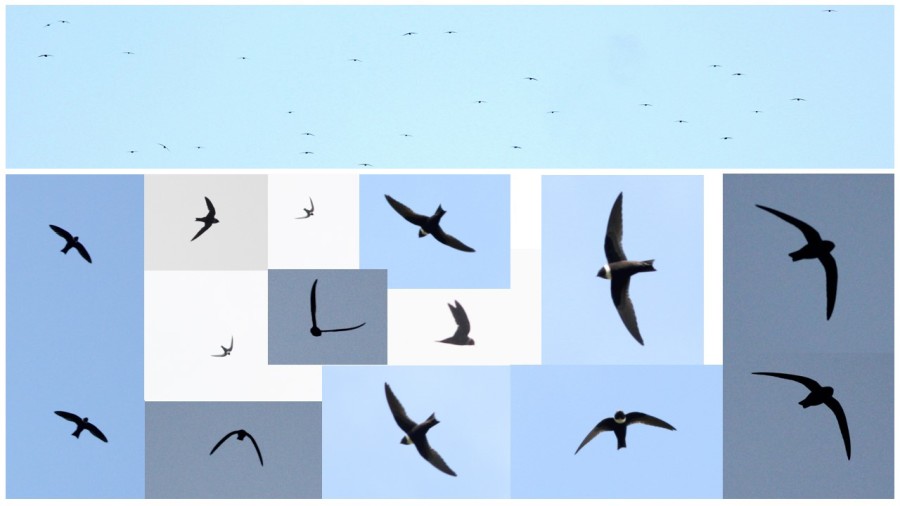 But despite our resulting paucity of scientific knowledge on this species in the Caribbean, I can still try to promise you great views of White-collared Swifts. Go inland, climb to the top of a low-vegetated hill or mountain (ideal if you are offered 360 degrees of view), sit down and begin scanning the horizons. Target the hours around dusk and dawn, when White-collared Swifts are known to flock up, as opposed to midday when they tend to disperse into smaller foraging pairs. I've had extremely good luck following this protocol, finding myself within stone-throw distance of large foraging flocks. The white collar around the neck and scythe-shaped wing profile are solid indicators that you're seeing the correct bird. [If at any time Black Swifts decide to enter the equation (the only other commonly occurring swift species in the Greater Antilles), I'll have to encourage you to attend Aerial Insectivores 401, a (pricey) advanced class that requires a higher level of discipline, courage and utter confusion.
Northern Potoo perched on a fence post near the Windsor Research Station, Trelawny Parish, Jamaica. (photo by Justin Proctor)

Northern Potoo (Nyctibius jamaicensis)
Let's move now from the diurnal species to a nocturnal favorite, the Northern Potoo. These birds actively hunt for insects at night by sallying out from low-lying perches where they remain camouflaged and motionless until prey is spotted. If you've got a little bit of energy left in you after the sun goes down, and you also remembered to pack a decent headlamp or flashlight, I can't encourage you enough to just go for a little walk down a quiet road nearby. Pasture roads are best, as they are often lined with fence posts – a favorite perching spot for potoos. But before you start shining your light slowly around from one potential perch to the next, stand still in the dark and just listen. Oftentimes the call of a potoo will help navigate you close enough to the bird to get an immediate visual upon turning on your light. Keep in mind that potoos rely on darkness to hunt, and that a beam of light to the eye is unnatural and stressful. Illuminate the bird with only the outer, weaker edge of your light's beam, and keep your observations brief. A good sighting of a potoo is an unforgettable memory to take home from your Caribbean vacation.
So why are aerial insectivores worth your time and effort?
My answer to that is "high rewards". Many of these species display incredible behaviors that you won't see anywhere else. Once you cue into them, they become addicting to watch. They also make you think differently about the complexities of the sky above you and the ecosystem that it supports. Amazingly, most of this goes largely unnoticed by the masses. Aerial insectivores are an entire branch [metaphorical pun, not taxonomical] of the avian world that often gets pushed to the back pages of birders' "must-see" lists because of the challenges often associated with seeing and identifying them. However, I think it's important to reinforce the fact that most of them aren't more difficult to view compared to other families of birds, they just require the implementation of different search tactics. So why not be the first one in your birding group to notice a vortex of swirling White-collared Swifts, or identify a mixed flock of four different aerial insectivore species feeding together on a swarm of flying ants over the beach?
The scientific community is discovering new and exciting information about these guys all the time, which is important, because there are growing concerns that several of the aerial insectivore species have been facing noticeable long-term population declines. The cause(s) aren't definitive yet, but likely point towards an amalgam of changes to their habitats and food supply. Excitingly, a lot of the ground-breaking work underway has been – and continues to be – sparked by observations from birdwatchers like you. That's why it is critical that you contribute to these efforts by entering your observation checklists into eBird Caribbean. So the next time you find yourself in the Caribbean, shoo those obnoxious Crested Quail-doves and Rufous-throated Solitaires away, and set yourself up in a good position to scan the skies for some aerial insectivores cruising by.
Who's with me?
Justin Proctor is a long-time contributor to BirdsCaribbean. His professional career includes lead roles in movies such as Jurassic Park 18 as well as the Titanic sequel: Jack and the Penguins Strike Back. Modestly put, he dabbles (4x consecutive Pulitzer Prize winner) in writing mildly comical pieces for scientific magazines. Although he's 30 years old, some people think he only looks 29. He lives in Raleigh, North Carolina with his exotic wife and no children that he knows of.