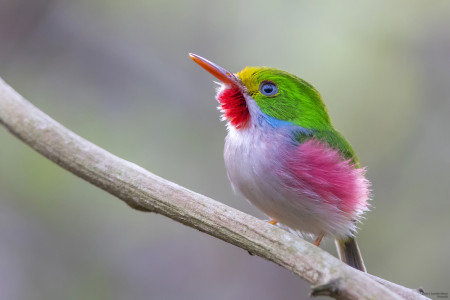 Join BirdsCaribbean, the Caribbean Birding Trail and acclaimed Cuban bird guide, Ernesto Reyes Mouriño, on the adventure of a lifetime in January or March of 2017.
Cuba is well-known for its amazing landscapes, vibrant culture and unique biodiversity. According to the new Endemic Birds of Cuba: A Comprehensive Field Guide, 371 birds have been recorded in Cuba, including 26 which are endemic to the island and 30 which are considered globally threatened. Due to its large land area and geographical position within the Caribbean, Cuba is also extraordinarily important for Neotropical migratory birds—more than 180 species pass through during migration or spend the winter on the island.
Our itinerary takes you to several of the best and most beautiful birding locations in Cuba, providing opportunities to see many of Cuba's endemic species and subspecies as well as many migrants. Along the way, we will meet  people in local communities, stay mainly in Bed & Breakfast establishments (casas particulares) and eat in private restaurants (paladars), allowing you to experience Cuba's rich culture, delicious food, friendly people, and generous hospitality. We will also have the opportunity to meet and  have discussions with local ornithologists and conservationists that have been working with BirdsCaribbean for many years.
BirdsCaribbean is offering two tours in 2017: an 8-day trip in January and an 11-day trip in March. Find detailed itineraries for both trips below. Traveling with us helps Caribbean birds as a portion of the proceeds from the trip supports our bird conservation programs in Cuba and the Caribbean. With new relations opening up, this is the perfect time to take your birding trip to Cuba, don't delay!
Space is limited so sign up now to reserve your spot!
Check out the report and photos from our January 2016 trip here. Purchase the new Endemic Birds of Cuba Field Guide here.
Eight day trip: 23-30 January 2017
Download the itinerary. (PDF)
Download the release form.
The January trip is full, but send us an email (info@BirdsCaribbean.org) if you are interested and we will put you on a waiting list in case there is a cancellation, and also notify you first about our trip dates for 2018!
Make a payment via PayPal:
Eleven day trip: 3-13 March 2017
Download the itinerary. (PDF)
Download the release form.
There is one space left on the March trip!!  Send us an email (info@BirdsCaribbean.org) if you are interested to join this trip, and also to get on our waiting list for cancellations, and first notification about our trip dates for 2018!
Make a payment via PayPal: