Erika Gates is an inspiring powerhouse whose work in the Bahamas has not gone unnoticed. She has been involved in a multitude of projects in Grand Bahama to raise awareness, restore native habitats and foster sustainable tourism. This article highlights one of her successful campaigns—certifying Lucaya International School as a wildlife habitat.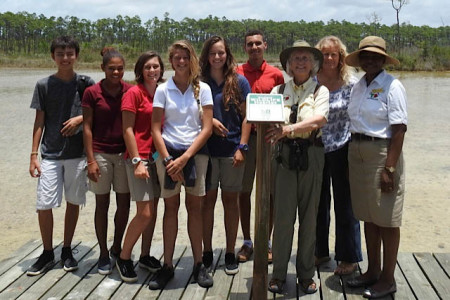 Last year, Erika suggested to Lucaya International School's (LIS) headmaster and board to get the school certified as a Wildlife Habitat. Erika had certified her own backyard garden a few years back and thought, "Why not get youth involved in creating habitat for birds and wildlife at their school?"
The National Wildlife Federation's Garden for Wildlife Program helps people to restore habitat and wildlife populations to our cities, towns and neighborhoods. It encourages schools to create outdoor classrooms where educators and students learn how to attract and support local wildlife. These wildlife habitats become places where students not only learn about wildlife species and ecosystems, but also hone their academic skills and nurture innate curiosity and creativity.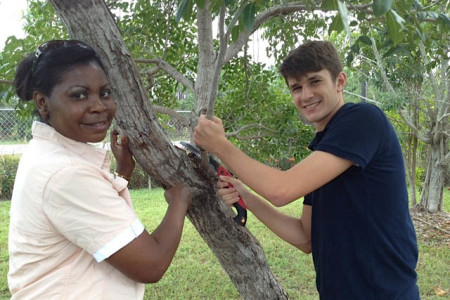 To meet the criteria for certification, the students had to create a wildlife habitat that provides a number of specific elements for each of the following habitat essentials: food, water, cover, places to raise young, and sustainable practices. The site also needed to be used as a teaching tool.
Work began in October 2015 to prepare a portion of the school grounds as a bird and butterfly habitat. A trail, extended dock and observation tower were also created at the wonderfully productive wetland.
Marilyn Laing of Garden of the Groves and Erika provided assistance with the program and helped the students select appropriate native plants that provide nectar for hummingbirds and butterflies, as well as berries and fruit for birds. They instructed them in pruning the existing trees in the habitat area, preparing the ground, composting and planting. Two birdbaths provided the water feature, and bird feeders were installed.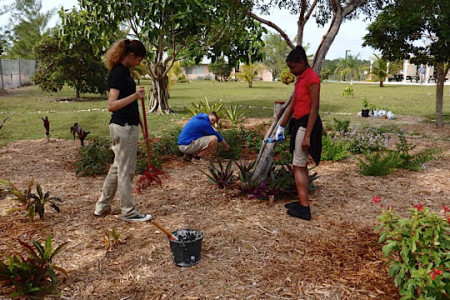 While the Gardening Team was led by teacher Martin Suarez, the Wetland Trail Team was led by Dr. Sylvia Bateman. The school is fortunate to be located adjacent to a wetland, a perfect outdoor classroom for bird observation, water sampling and plant biodiversity. This location was enhanced by Dr. Bateman's team through the creation of a trail along its southern shoreline. A boardwalk and dock for better access into the wetland was built and donated by Grand Bahama Nature Tours. The students' team created an observation stand for better viewing of the wetland, and the site also received the Wildlife Habitat Certification.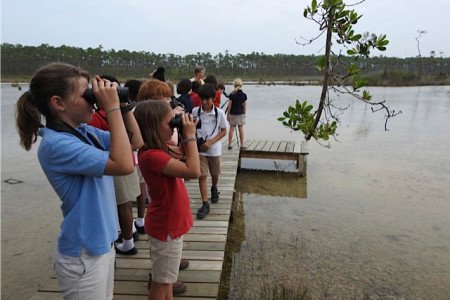 The certified Garden and Wetland Wildlife Habitats at Lucaya International School have already become outdoor classrooms for librarian Susan Krupica's Year 5 and 6 birding classes. Ms. Krupica has been trained by BirdsCaribbean through their BirdSleuth Caribbean program to teach young children how to spot, identify and record birds as well as submit them into eBird Caribbean, a real-time online checklist program used by birders and ornithologists all over the world to gather basic information on bird abundance and distribution. Over the past six months LIS has submitted observations of 48 different bird species! Erika was delighted to accompany and lecture the young birders on their fieldtrips. BirdsCaribbean sponsored the BirdSleuth educational materials and also provided the binoculars for the Birding Class.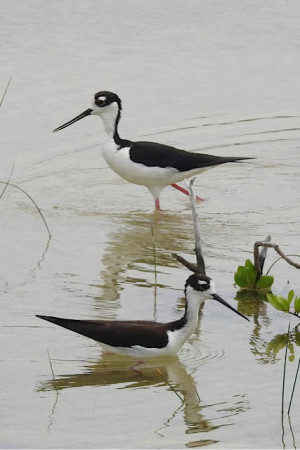 Dr. Lisa Sorenson, Executive Director of BirdsCaribbean, stated, "The Garden for Wildlife program combined with birding and science activities in the BirdSleuth Caribbean curriculum provides a hands-on way for youth in learn about and care for the birds and nature all around them. It also provides much-needed habitat for wildlife, every little bit helps! Congratulations to the LIS school and Garden of the Groves for this initiative—it's a wonderful model for other schools around the Caribbean to follow."
Over 300 schools participate in the National Wildlife Federation program in the United States but Lucaya International School is the first school in the Bahamas to have received the Wildlife Habitat Certification.
Mr. Michael Lowerey, Principal of the school, commented: "Students need an area in which they can take the theory learned in the classroom and put it into practice. These two areas give our students a hands-on learning experience. We are so grateful to have the assistance of Erika Gates and The Garden of Groves and all of their expertise. The outdoor classrooms also allow our students to receive a better understanding of our island and all of its resources and how important the environment is for our future."
Erika Gates is owner and operator of Garden of the Groves, Grand Bahama Nature Tours and Grand Bahama Birders' Bed and Breakfast. She also serves as a Board member of BirdsCaribbean. A free eBook is available from BirdsCaribbean: "Heritage Plants: Native Trees and Plants for Birds and People in the Caribbean." This illustrated book explains the importance of native trees to birds and other animals, includes a guide featuring dozens of native trees of particular value, and serves as a resource to foster habitat restoration within local communities. It is available in English and Spanish at this page.