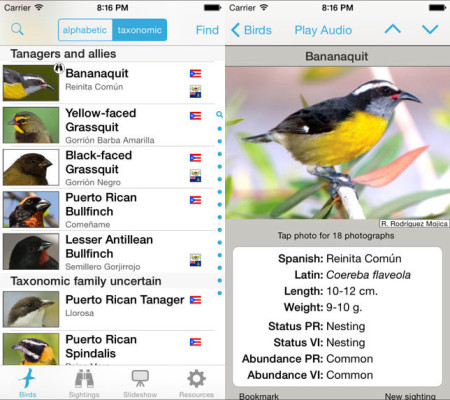 Did you ever wish you had a bird guide in your pocket wherever you go? For iPhone users in Puerto Rico and the Virgin Islands, your dream has come true. The mobile app Puerto Rico and Virgin Islands Birds in Photos and Audio is the perfect companion in the field. This bilingual (English & Spanish) app features all 382 birds found in the area.
This thoughtfully-designed app lets you identify birds, browsing alphabetically or taxonomically. Beginning birders looking to ID the species in their backyards can filter results to show only common species. Users can also use the app to record their bird sightings and even export this information. If you just want to see birds, there is a slideshow mode featuring highlights from the 3,000 gorgeous photos in the app.
Listings for each bird include detailed species accounts, and advanced birders will love the audio that is included for almost every species. Over 360 audio recordings are just a touch away. The resources section includes information about Caribbean birds and introductions to key topics like biogeography, conservation and migratory birds.
Available for $9.99 from the App Store, it is compatible with iPhone, iPad and iPod Touch. It is optimized for the iPhone, so if you are using an iPad, be sure to view iPhone apps when searching in the store. More information about the app is available at: http://puertoricobirds.com/prandvibirdsapp.html