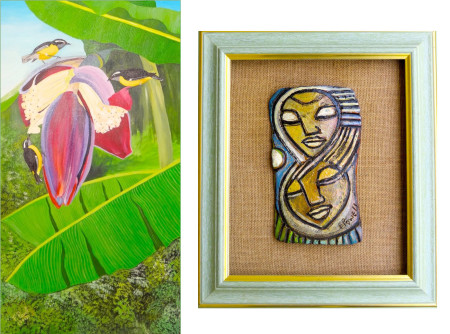 The drawing for BirdsCaribbean's 2015 raffle is coming up October 24th, but you still have time to purchase tickets. The proceeds from the raffle support our conservation programs and to provide travel support for BirdsCaribbean delegates to attend workshops and conferences.
The prizes this year are fantastic if you are a bird lover, an art lover or need a new pair of binoculars: an original painting of Bananaquits on Banana Flower by acclaimed Grenadian wildlife artist Freddy Paul, generously donated by the artist, a pair of Vortex Viper HD 8×24 roof prism binoculars, and a framed, ceramic relief artwork by outstanding Jamaican artist, Everard Powell, also donated by the artist.
Tickets are $5 each or five for $20. Contact us to let you know how many tickets you would like. You can pay for the tickets online, or request other payment options when you contact us. Remember to get your tickets before October 24th, and good luck!