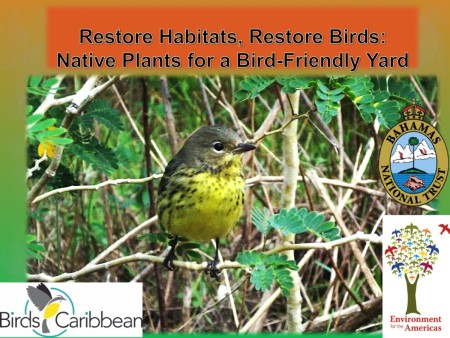 In preparation for the International Migratory Bird Day celebrations of 2015, BirdsCaribbean and the Bahamas National Trust co-hosted a special webinar about bird-friendly gardening: Native Plants for a Bird-Friendly Yard. Designed to tie into this year's Restore Habitats, Restore Birds theme, this webinar focused on the native plants that are most beneficial to native Caribbean birds.
Scott Johnson kicked things off in style and was joined for this webinar by guest panelists and native plant experts, Dr. Joe Wunderle and Mr. Pericles Maillis.
The first part of the presentation gives an introduction to bird migration and the many challenges and threats that birds face on migration. The second part of the presentation talks about what birds need to survive—food, water and shelter (habitat)— and how we can help birds by planting plants that are valuable to birds, providing a source of water, restoring habitats in our communities, and more. The third part of the presentation gives information on 10 plants that are great for both migrant and resident birds and gives you some tips on how to get started with planting a bird-friendly yard.
View the one-hour webinar right here:
The PowerPoint version of this presentation is also available for educators or anyone interested in learning more. (Download in English, PowerPoint, 15.7MB – Download in Spanish, PowerPoint, 15.1MB)