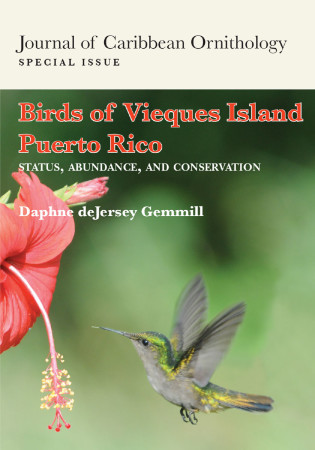 Recently released by BirdsCaribbean's Journal of Caribbean Ornithology, Birds of Vieques Island, Puerto Rico: Status, Abundance, and Conservation is a special issue that threatens to set an impossibly high bar for the term special. Written by Daphne deJersey Gemmill, the volume draws on her three decades of surveys and exploration, painting the picture of the small island's bird life in exquisite detail. Like all of the JCO's publications, it is available for free online.
According to the abstract: Vieques Island is a satellite island 8 miles east of the main Island of Puerto Rico. Status, abundance, and habitat use of the birds of Vieques Island are presented based on the author's extensive avian surveys, literature review, surveys of museum speciments, and the banding efforts of numerous other ornithologists. Species accounts are provided for each of the known birds of Vieques, along with color photos for many species and a review of the conservation challenges facing the island.
As is appropriate for a peer-reviewed journal, the abstract significantly undersells this remarkable volume. The species accounts are beautifully illustrated with dozens of photos. Thoughtful, comprehensive sections detail habitats, conservation threats, and even an ornithological history of the island. At 273 pages, this special issue is essentially a book—and an excellent one at that, recommended to anyone with an interest in Caribbean birds and ecology. A PDF of the issue is available for free on the JCO website and is guaranteed to be the most rewarding 45MB you've downloaded all week.
The book can purchased on Amazon here.